Toyota released the first official image of the Prius
c
today and announced the lineup of world premiers scheduled for the Tokyo Motor Show.
Dubbed "Aqua" in Japan, the Prius
c
is barely bigger than a Toyota Yaris, seats five people and will constitute the smallest member of the Prius family upon its launch.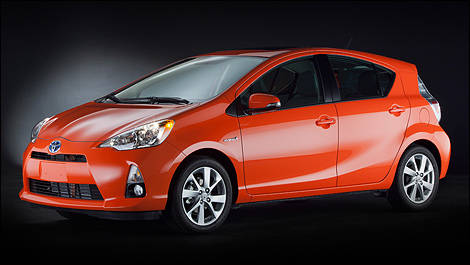 Photo: Toyota
The Prius
c
's hybrid system (a 1.4L gas engine coupled with an electric motor) will allow for exemplary fuel efficiency at just 2.86L/100 km.
The Toyota Prius
c
will join the brand's U.S. and Canadian lineups in the spring of 2012, and will make its North American debut at the upcoming Detroit auto show.
Toyota's Tokyo unveilings:
Prius c/Aqua
FT-86/Scion FR-S
FCV-R Concept: A sedan powered by hydrogen batteries with a range of 700 km or more that Toyota is looking to introduce in 2015.
FT-EV III Concept: An ultralight EV with a 105-km range.
Fun-Vii Concept: A vehicle that "builds a solid link between society, cars and people."