Chrysler has recently announced that they'll present some heavily customized vehicles from their various brands at this year's SEMA show which opened this week. SEMA represents a nearly forty-billion dollar parts and accessories industry, and is a common ground for suppliers and manufacturers to meet under one roof. The show is not open to the public.
A group of in-house automotive enthusiasts at Chrysler called Mopar Underground donated their time to create the SEMA machines. Here's a look at two of the coolest.
The Jeep Wrangler JT caters to the Jeep owner interested in uniqueness and accessories. The model rides on the same wheelbase as the Wrangler Unlimited, though it sees the vehicle fitted with a rear cargo bed and capped by an easy-to-use removable hardtop.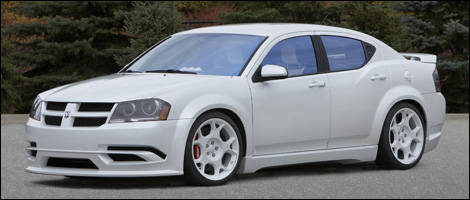 Dodge Avenger Tuner Stormtrooper
For Dodge enthusiasts, the Avenger Tuner Stormtrooper is intended to appeal to an adult tuner with an appreciation for technical superiority and performance. This model was inspired by the technical yet organic look to Star Wars Stormtrooper costumes, while its driving experience represents the fusion of technology, comfort and power.
Stormtrooper comes powered by a software re-tuned 4.0 litre engine driving all four wheels and exhaling through Borla plumbing for killer sound effects. Forged 20" wheels and xenon lighting add to the Stormtrooper's visual flare.
"Our diverse team which changes frequently has been developing SEMA concepts for more than five years. It's the usual 'enthusiast' suspects from our union shops [plastic, paint, metal and wood], Product Design Office, SRT and Mopar Performance Parts and engineering," said Ralph Gilles, Chrysler's VP of design.
"Every year, we push the boundaries of conventional thinking -- customizing with no limits to creative expression and freedom, just the power to imagine. We want to build customized concept vehicles for SEMA that flex the potential in our platforms, show that Chrysler, Jeep and Dodge vehicles are indeed designed for customization and keep the Mopar spirit and passion alive."
photo:
Chrysler