The website
Unhaggle
, which charges a fee to consumers to help them comparison shop local inventory without having to negotiate with salespeople, says according to its data from last month, 2012 Dodge Grand Caravan buyers got the best deals, with savings up to $9,000 or more than 30% off the MSRP.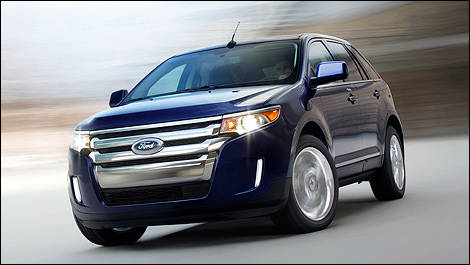 Photo: Ford
The top five vehicles with the biggest discounts in the Unhaggle marketplace in 2012 were:
Dodge Caravan, $8,865 discount (31.5% off MSRP)
Ford Edge, $7,400 discount (16.1% off MSRP)
Hyundai Santa Fe, $4,950 discount (16.0% off MSRP)
Kia Sorento, $4,200 discount (12.2% off MSRP)
Honda Odyssey, $3,765 discount (11.9% off MSRP).
Unhaggle's top deals were all made in cash and include manufacturer rebates and incentives.
The website works by alerting area dealers that a buyer is available for one of their models, encouraging the dealers to compete for best price. Buyers then visit the winning dealership to close their purchase.