A Vancouver city councillor thinks the city's keenness to be green gives it the right reason to stage a round of the new FIA Formula E electric Championship.
NPA Coun. Elizabeth Ball will bring forward a motion asking Vancouver to look into becoming a future host for the Formula E series.
"Vancouverites love their events," Ball said in a statement, calling the event an opportunity to get together while respecting the environment. The race, including qualifying and practice rounds, lasts a single day so it wouldn't cause much disruption.
On top of economic and social benefits of hosting, Ball thinks the event will once more draw attention to the city from around the world.
Vancouver held a round of the CART/ChampCar series between 1990 and 2004.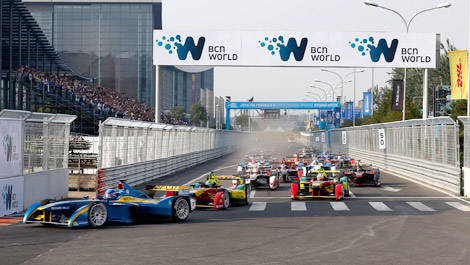 Start of the Chinese racing, at Beijing. (Photo: WRi2)
Formula E plans European double-header event for 2015

An additional round at one of the final Formula E events in Europe could bring the all-electric series back to its original schedule of 10 rounds.
Series boss Alejanadro Agag revealed that plans to replace the cancelled Rio de Janeiro race, previously scheduled for Hong Kong, have been abandoned and that he is now considering turning one of the three European races at the end of the season into a two-day double-header meeting.
British magazine Autosport reports that Formula E has plans to increase the number of races for season two in 2015/16, Agag said. So a race in Vancouver would fit the bill.
"For sure we will go higher: we are already planning at least two additions for Year 2," he explained.