Press release
Source: Volkswagen
Volkswagen and energy supplier LichtBlick agreed an exclusive world-wide energy partnership in Salzgitter on Wednesday. Volkswagen is to produce the high-efficiency "EcoBlue" CHP (combined heat and power) plant, which is to be driven by gas engines from Volkswagen. LichtBlick will be marketing the plants as "ZuhauseKraftwerke" (home power plants) and will be using them for a new, intelligent heat and power supply scheme.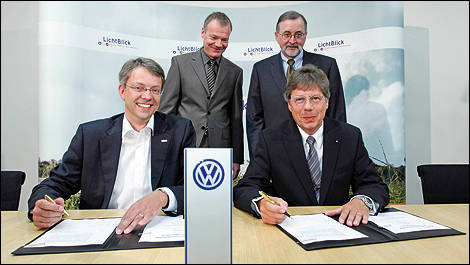 Dr. Christian Fiege, CEO of the LichtBlick AG, Prof. Dr.-Ing. Werner Neubauer, Member of the Board of Management of the Volkswagen brand with responsibility for 'Components'(at the front, from left), Gero Lücking, Member of the Board of LicktBlick, Lothar Sander, Member of the Board of Management of the Volkswagen brand with responsibility for 'Controling' (from left, behind).
"Under its BlueMotion Technologies brand, Volkswagen is already developing and producing innovative, environmentally effective technologies. The partnership with LichtBlick is further proof of our engineers' technical expertise. Volkswagen will be contributing its experience in the production of standard automobile engines, which has been tried and tested in millions of units, and its volume production capabilities to this cooperation," explained Dr. Werner Neubauer, Member of the Board of Management of the Volkswagen brand with responsibility for 'Components'. "This project will also help to secure long-term employment at our Salzgitter plant and other Group facilities," Neubauer added.
"By marketing the ZuhauseKraftwerk, which allows decentralized, flexible power generation, LichtBlick will be ushering in a new era of smart energy supply. As Germany's largest independent energy supplier, we know how power and gas markets work and how to organize a successful sales system. In Volkswagen, we have found the ideal partner for our scheme," said Dr. Christian Friege, CEO of LichtBlick.
In future, these home power plants will not only supply heat to local buildings but will also be networked by LichtBlick to form an advanced major power plant. "You should think of our home power plants like a shoal of fish, with many small units pooling their resources to form a large, high-performance community that generates power. LichtBlick plans to network 100,000 of these home power plants to form the largest power plant in Germany," Friege explained.
With an output of 2,000 megawatts, this decentralized power plant will have the same capacity as two atomic power plants. While the ZuhauseKraftwerk will only generate power on demand, the heat produced at the same time will be stored, allowing reliable supplies of heating energy and warm water to the building at all times. Thanks to efficient Volkswagen technology, these natural-gas-fired home power plants already reduce CO2 emissions by up to 60 percent, compared with conventional heat and power generation. In future, LichtBlick plans to operate the plants on biogas, a renewable energy source with no impact on the climate.
The LichtBlick scheme for decentralized power generation is intended to supplement the expansion of renewable energy sources. Experts predict that almost half of the electricity used will be generated from renewable sources by 2020. Conventional base-load power plants cannot be started up or shut down fast enough to compensate for fluctuations in power supply from solar or wind energy units as a result of changing weather conditions. In contrast, power from the LichtBlick decentralized system can be supplied to the grid at a minute's notice.
"Most importantly, we can supply power when there is no wind. This approach will pave the way for increased use of renewable energy sources and for the flexible and climate-friendly power generation system of the future," Friege stated.
LichtBlick will initially be marketing the home power plants in Hamburg and the first plants will be available for installation from 2010 with the customer paying an installation contribution of 5,000 euros. From 2010, LichtBlick will be gradually expanding its marketing efforts to cover the whole of Germany.
Volkswagen is to start volume production of home power plants at its Salzgitter engine plant. "At the Salzgitter plant alone, cooperation with LichtBlick could ensure sustainable employment for 160 people," explained Andreas Blechner, Volkswagen Salzgitter Works Council Chairman. He added: "Apart from the idea of clean energy, the employment prospects were the main reason for the Works Council to actively support the CHP project." Group management and the Works Council agreed to implement the project at the Salzgitter plant during the 2006 round of pay negotiations. The Volkswagen Works Council sees this project as a first key step towards alternative employment in addition to conventional engine production..
photo:
Volkswagen