We've known for some time that the 2019 model-year will be the last for the iconic Volkswagen Beetle. The German carmaker has just made it official with its announcement of a special Final Edition.
It will be produced in two configurations, the SE and SEL, and in coupe and convertible formats.
So this is the end of the road for the Beetle, after three generations – the most popular of which sold an incredible 21 million units.
But after you shed a tear or two, keep in mind one thing: with its I.D. Buzz and and I.D. concepts, Volkswagen has demonstrated that an electric future that includes two of its most emblematic models, the Microbus and the Beetle, is far from impossible to imagine.
Volkswagen Group of America President and CEO Hinrich J. Woebcken didn't shy away from referring to the possibility in the company's press release for the Final Edition. Speaking of the possible renaissance of the Beetle, he advised that we should "Never say never".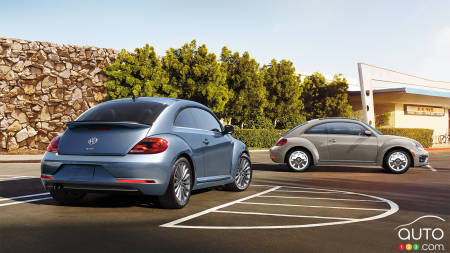 As for the special editions for 2019, they will sport distinctive style elements, and the only two colours offered - blue and beige – are a nod to those available on the last units of the first-generation Beetle, produced in Brazil until 2003.
Other edition-specific touches include 17- and 18-inch wheels.
In order to respond to the needs and wishes of American consumers, a group that Volkswagen is desperately trying to win over, the cars will be equipped with a range of drive assist systems such as blind spot monitor rear traffic alert (in the SE) and available park distance control technology (in the SEL).
For the moment, we have only had American pricing announced for the Final Edition. From that we can of course get a general idea of what to expect in Canada.
In the U.S., the SE trim of the 2019 Beetle Final Edition will retail for $23,045 USD, while the SEL version will set buyers back at least $25,995 USD.