Production of the Volkswagen Beetle is slated for summer 2019. Pretty much from the moment VW made the announcement it was putting an end to the iconic model, rumours have circulated to the effect that it could eventually return as an electric vehicle. We actually reported on the possibility ourselves. Maybe the noise stems from the fact it's just really hard to imagine an automotive universe without a Beetle in it.
We're still wrapping our heads around the idea.
And yet, Volkswagen Group CEO Herbert Diess took the time to confirm, in an interview with Motor Trend, that there are no future plans at the company for a new Beetle, electric or not.
"You have to do something emotional, but I think we can't cover the historic lineup of Volkswagen with electric cars, and we shouldn't."

- Herbert Diess, Volkswagen Group CEO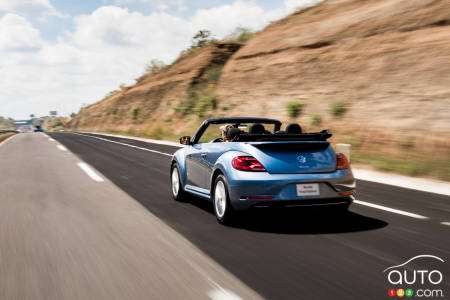 The executive did say that making a new Beetle on the company's new platform designed for EVs, the MEB, would be easier than producing a successor to the current model built on the MQB platform. This platform underpins several of the company's models, starting with the Golf. Apparently this was not enough to convince the brain trust at VW to embark on the creation of an electric Beetle.
Which means the Beetle is dead, and for good this time – or it will be after the Final Edition runs its course.
All of this doesn't mean Volkswagen is closed to the idea of mining its rich history for retro ideas. By 2022, the company wants to market an electric version of the iconic Microbus. The concept version of that model-to-be, the ID BUZZ Concept, has been shown a few times in the past couple of years.
Still seems to us that an electric version of the Beetle, or an EV inspired by it, is a compelling idea. But we'll take the word of the CEO on the question. Of course, there's no rule against changing your mind.
We've seen it done before.