The 2019 Los Angeles Auto Show is fast approaching, and right on cue automakers are announcing what goodies they're bringing to the event. Today we learned that Volkswagen's new ID-badged product scheduled for the show will be a new all-electric concept, the ID. Space Vizzion.
The prototype takes the form of a wagon, though the industry remains highly averse to that term and so VW prefers to call it a new type of crossover. The designers did take inspiration from the wagon format, but gave it an SUV-like practicality.
"So far, with our ID. family, we have shown what is possible with electric vehicles in each known car category. With the ID. Space Vizzion we create a new, fully electric segment."

- Klaus Bischoff, Head of Volkswagen Design
Those are nice words that don't actually say all that much; we'll stick to calling it a wagon.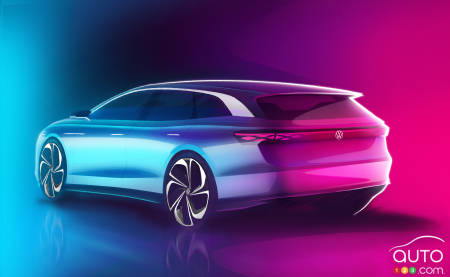 Of the images provided by Volkswagen, only two show what the inside of the concept looks like. It's possible to discern four captain's chairs, with between them a long central console. No surprise, the dashboard displays (in front of the driver and on central console) are fully digital, but noteworthy is the large size of the central console screen.
Volkswagen also vaunts the use of vegetable-based leather on the seats.
The ID. Space Vizzion sits on the electric platform developed by Volkswagen, which we're going to see underpinning most if not all of the company's upcoming electrified vehicles. According to VW, the prototype has a range of 483 km on a full charge.
One of the notable elements of the announcement today is that the company intends to waste no time bringing this concept to the production phase. VW says it wants a production version ready by late 2021. The version coming to the LA show this year is of course a showy, extravagant prototype version, but it will give us a general idea of what to expect when the car goes into production
Other point worth noting: the vehicle will be offered to consumers in North America as well as in Europe and China.
Before it makes its way here, however, we'll be getting the ID. 4 crossover, possibly before the end of 2020.