• Volkswagen is planning a smaller electric SUV for North America
• The model could well be an SUV version of the ID.3 hatchback sold in Europe.
• Expect to see this model arrive around 2025.
When Volkswagen introduced its ID.3 model in Europe, many were saddened to see that it would not be offered here. Instead, the company launched the ID.4 as its first EV here, which was more spacious and better adapted to North American tastes and needs.
Now things could change. According to a report by Insideevs (citing the German outlet Handelsblatt), Volkswagen is planning to offer a second electric SUV in North America after launching production of the ID.4 at its Chattanooga, Tennessee plant last year.
The new model would be manufactured starting in the middle of the decade in either Chattanooga or Puebla, Mexico. A company spokesperson confirmed the plans to Handelsblatt, but declined to give further details.
If the model is assembled on the MEB+ platform, there's a good chance it will be assembled in the U.S., like the ID.4.
Browse cars for sale available near you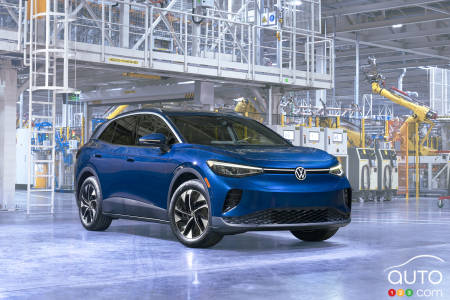 The other thing that would tip the scales in Chattanooga's favour is that Volkswagen is considering building a battery cell plant in Canada. The U.S. plant is closer to Canada than to Puebla, Mexico, which would save money on transportation.
Now, regarding the model we would be entitled to, we should not think that it would be the ID.3 that is marketed in Europe. The company has already mentioned that it found this product too small for our market. However, it could be a utility version, a bit more spacious and higher on the leg. The thing had been mentioned by Thomas Schäfer, the head of Volkswagen, in October 2022.
He mentioned that Volkswagen would launch 10 new electric vehicles by 2026, including a compact SUV based on the ID.3 hatchback. Schäfer previously told Autocar that the ID.3 SUV would have a radically different look than the ID.3 hatchback when it hits the market, which should happen before 2026.