I was recently asked to partake in a vehicular cross-Canada tour. Nothing unusual, as several manufacturers have crossed the country in various attempts to promote their wares. However, this trip was going to be different as we would be solely using Volkswagen's famous diesel products, and it's no secret that I adore diesel vehicles!
Organised in stages, and involving five groups of journalists, the tour would start from Halifax, Nova Scotia and finish in Vancouver, BC. Naturally, with large distances to cover on each leg, the journalists were asked if we'd care to bring a driving partner. So, I went along with Er Indoors (my pet name for well, Her Indoors!).
Now some might think me crazy for doing this, but my better half and I genuinely do enjoy taking road trips together. In fact, we seldom turn on the radio, preferring to chatter about everything from "what cute garden gnomes those are" to "why would anyone keep a rusting Ford Pinto on their front lawn?" Yes, you see the most amazing sights on a road trip, if you pay attention!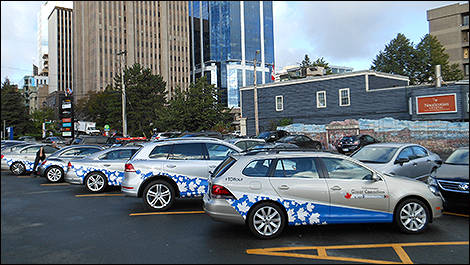 Photo: Kevin Corrigan


1st Leg – 2014 Volkswagen Passat TDI
As we set off from Halifax, NS in our comfy Passat 2.0L 4-cyl TDI, I couldn't help but recall my own (UK-based) Passat from almost three decades back. The vehicle was a highway cruiser of the first order, and to this day I miss her. However, time moves on and things change -- or do they? Because the Passat TDI is not only as long-legged as my much-loved previous model, but has now become an up-market product worthy of comparison with certain other German brands. Add to this fuel-economy figures around 5 - 6L/100km (hwy) and what you have is the intelligent buyer's vehicle of frugal luxury.

2nd Leg – 2014 Volkswagen Touareg TDI
The new 2014 Volkswagen Touareg V6 TDI is a fantastic product, and I was grinning from ear-to-ear as I jumped behind its wheel for the second leg.
I was also thrilled to have my wife's opinion on the vehicle, which was absolutely zilch! You see, my wife drives an older Range Rover which she simply idolizes, so whenever I show her another SUV, she immediately starts pulling it to pieces -- not with the Touareg, however. So, as I drove along delighting in the awesome power of its turbo diesel powerplant (240 hp; 406 lb-ft of torque), she sat there as quiet as a church mouse. That is probably the best testament to an SUV you will ever read by anyone, anywhere!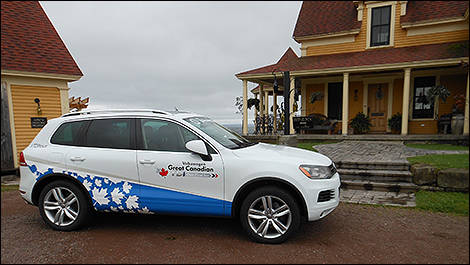 2014 Volkswagen Touareg TDI (Photo: Kevin Corrigan)
3rd Leg – 2014 Volkswagen Beetle TDI
En route to our overnight stop in Edmundson, NB, we switched into the 2014 Beetle TDI. Now, I've always liked the Bug. It's been a winner for Volkswagen since forever, and I was one of the cheerleaders when it returned to us in its retro guise. However, I was as pleased to see the new shape arrive as I was to see the over-the-top cutesy flower holder disappear from the previous generation's dashboard. It now appears more grown up, with a sporty stance and performance & handling to match (yes, I'm speaking of a diesel here!). With real world fuel-economy figures around 5L/100km (hwy) this has truly become "the people's car" it set out to be.
4th Leg 2014 Volkswagen Golf TDI Wagon
The Golf has always been the much-loved mainstay of Volkswagen, and who am I to argue? After all, a Golf can fit into almost anyone's lifestyle. It's comfy, easy to park, good on fuel, offers great handling and choose any version you like and you still won't upset your bank manager. However, as a diesel wagon, this may well be the first time he/she actually phones to congratulate you on your purchase. It truly is a practical vehicle and well-suited to us Canadians. It's agile in the twists & turns and a real smooth-y on the highway. In fact, of all the vehicles I experienced on the tour, the
Golf TDI Wagon
supplied the best fuel economy, and would be my first choice for a long-distance driving getaway.
5th Leg: Montreal and our finish line, well almost!
The 2014 Volkswagen Jetta TDI was our transportation for the final run into Montreal, and the hotel which was to signal the end of the first leg of Volkswagen's Great Canadian TDI Clean Diesel Tour. It was here we would pass the torch to my fellow journalists, who would then continue the fuel-sipping adventure. Unfortunately, this was not to be, as although the Jetta TDI was pleasurable to drive, its GPS system proved itself as useful as a cardboard snow-shovel, and we never actually made it to the hotel.
Yes, while most Montreal residents are familiar with the location of all four Rue Sherbrooke(s) (the location of our hotel), our GPS companion insisted that there was just one, which proved to be the wrong one!
We then attempted to program the street adjoining Rue Sherbrooke (which was Rue Stanley), only to be tricked again by a GPS which listed only one when, in fact, there are three Rue Stanley(s) in Montreal.
In all fairness, I enjoyed my experience behind the wheel of the Jetta TDI, but if you purchase one, you may want to add the price of a decent TomTom unit because without it you'll have better luck asking the village idiot for directions! (Note: The GPS worked very well in the other VW models I drove.)
2014 Volkswagen Jetta (Photo: Kevin Corrigan)
While I typically enjoy the sights of Montreal, spending 3 ½ hours lost in its rush-hour traffic before racing to the airport, is not my fondest memory of the city. However, the tour did reinforce one or two things in my mind: First, when it comes to diesel transportation, Volkswagen is way out in front with an amazing range of diesel offerings, and second, how can you not love a woman who loves going on road trips?