Born in Quebec, Simon Lamarre went to Brebeuf College before studying environmental design at the University of Quebec in Montreal (UQAM). He joined Volvo in March 1995 after spending a few years with some rival companies. Among his many achievements are the XC90 interior and the latest generation S80. He also contributed to the SCC project.
How is Volvo perceived?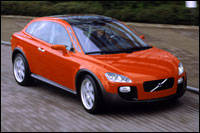 (Photo: Volvo)
Since 1997-1998, Volvo seriously began studying the public's perception of their cars. The results would influence the future of Volvo: what are buyers really looking for? At the end of 2001, encouraged by the positive reactions towards the design of the SCC (Safety Concept Car), Volvo's design director asked him to further analyze the public's feedback and the survey data. The SCC is actually a safety exercise based on a sporty looking hatchback model which, in turn, is based on the Volvo P1800ES. It features multiple advancements, such as transparent A-pillars for improved visibility as well as cameras that monitor blind spots.
Advanced research
Simon led the research work and, after only one month, he came up with fascinating conclusions on how different groups of people reacted to this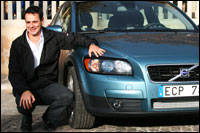 (Photo: Amyot Bachand, Auto123.com)
concept. At the time, Volvo wanted to appeal to a younger clientele and to expand its product lineup. More precisely, the company planned to offer an entry-level model that would be smaller than both the S40 and V50.
Listening to the young consumers
As Simon found out, young consumers aged between 25 and 35 don't want to have kids right away; so, they look for a car with a stylish exterior, a sporty interior, performance, a good audio system and, finally, electronic gadgets. They don't want a 4- or 5-door vehicle. They want a sportier, more personal and more charismatic car with 2 or 3 doors.
The table is set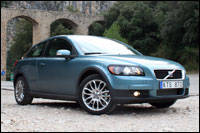 (Photo: Amyot Bachand, Auto123.com)
Simon Lamarre was then asked to draw a sketch of what such a car would look like. With the help of a few collaborators, Simon completed his first rendering of the C30. The boss was intrigued, so a full-scale clay model was created and submitted to Volvo's executive board. The C30 immediately got the green light for production and, in less than a month, the car came to life. It was positioned as an entry-level Volvo, which meant it would compete against other luxury cars. And since it was the smallest car in Volvo's lineup, the C30 would help reduce the overall CO2 emission levels of the company.