Volkswagen is set to unveil a new Beetle Dune concept at the North American International Auto Show in Detroit next week. If the name sounds familiar, it's because the German automaker also used it for a previous concept based on the 2000 New Beetle.
This off-road variant of the Bug features larger wheel arches, beefier bumpers, two inches of extra ground clearance, and a ski rack on the roof. Derived from the Beetle R-Line, it houses a 2.0L 4-cylinder engine that produces 210 horsepower through a 6-speed direct-shift gearbox (DSG).
We'll give you more details about the Volkswagen Beetle Dune concept after its official debut.
Source : motorauthority.com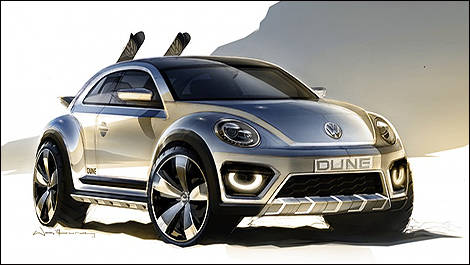 Photo: Volkswagen