If you're about to invest in a new ride, chances are that your dealership offers a wide and comprehensive range of accessories to help fine-tune it to your exact tastes.
Dealer-approved accessories are built to the same standards as the vehicle itself, typically covered by the new-car warranty, and are guaranteed to fit and function properly the first time -- unlike cheap knock-offs from the internet. And, unlike buying online, dealer accessories don't come with shipping and duty costs -- and they're easy to return if there's an issue.
Accessories are available for new vehicles, as well as past models. Whether you're considering accessorizing your new ride or a well-loved one, your dealer has you covered.
Certain accessories are of particular interest in wintertime, and can work to enhance the durability, confidence and comfort your ride delivers in the most challenging travel season of the year.
Here's a closer look at some winter-made accessories to consider.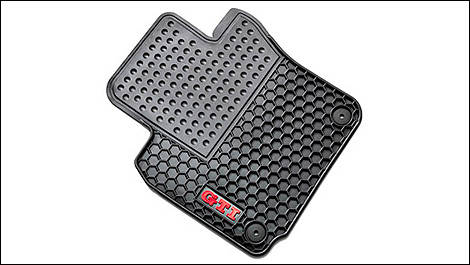 Photo: Volkswagen
Spare your Cabin
Winter tire season is also winter floor-mat season. Protect your ride's carpeting and floor pan with a set of custom-formed winter mats that'll trap virtually all of the moisture, salt and sand tracked on board.
Without winter mats, this abrasive and corrosive solution of salt, water and mud will cause mold, ruin your carpet, and accelerate the formation of rust in the metal floor beneath your feet. Winter mats trap all of that nastiness, and can be easily cleaned in your laundry-room sink or at a coin-operated car wash.
Consider a cargo tray to protect your carpeting from the loading and unloading of winter gear, too. Door-sill covers or "kick-plates" are also available for most models to protect the painted surfaces of your rocker panels from sandy boots or the claws of your four-legged passengers.
Sports Fans
Ski trip? A day of snowboarding? Forget tossing your equipment into the back of your crossover or minivan where it could damage the interior and chew up passenger space. Your dealership offers a wide range of cargo-carrying solutions to help you take your gear along with ease -- including roof-mounted or hitch-mounted gear carriers that install in minutes to securely transport your stuff to the slopes.
Added Protection
A little protection now can do big things for your vehicle's resale value down the line. Look for hood-edge deflectors, mud flaps and other protective implements that'll protect your vehicle's vulnerable areas from damaging salt and sand spray. Not only do accessories like this protect your ride's finish, they add a touch of uniqueness to its looks, too.
Step Bars
Got a pickup? Check out some step-bars or step-rails. Not only do these add a touch of visual flare and make it easier and safer to enter and exit your ride, they provide a sturdy place to kick off those winter boots before getting on board.
Electronic Gear
You could get a Bluetooth phone interface or voice-command navigation system from your local electronics retailer and suffer with poor call quality, limited functionality, and wires dangling all over your dashboard. Or you could stop by your dealership for a variety of solutions that integrate fully with your vehicle, instead. Both of these voice-commanded electronic systems work to keep drivers connected and on course in inclement weather with no distraction.
Winter Boots
Utilizing your favourite automaker's advanced supply network and team of professional service managers and installers, your local dealer offers a wide range of winter tire and wheel solutions. A single visit will set you up with a no-nonsense package, while giving your ride's advanced braking and stability systems more physical traction to work with. Consider a dealer-approved winter tire and wheel package for your new or used model.
Remote Start
Letting an amateur installer at your local electronics shop modify your vehicle's wiring is a bad idea. Solution? Dealer-installed remote starter. Installed by a trained technician who knows the wiring in your ride, this upgrade won't void your warranty or adversely affect the functionality of your vehicle's systems. Only the highest-quality, manufacturer-tested units are offered which means you'll be able to preheat your ride reliably for many winters to come.
Auxiliary Lighting
Nothing adds confidence to winter travels like fantastic forward illumination of the road ahead. If your factory headlights are falling short, be sure to check out options for auxiliary lighting -- including fog lamps and auxiliary lights. Available as an add-on for many models, fog lamps deliver a low and wide spread of illumination that adds visibility without glare when it's snowy or foggy.
For your truck or SUV, a variety of high-performance driving lights are available, including specialty units that can be mounted to your bumper or even your roof rack. Ask your sales representative for details, and remember that seeing and being seen are key to safe travels when the temperature drops.