The new Highlander will be bigger as it is now based on the current Camry platform. This would mean that the third row of seats should be able to really accommodate passengers this time around. Information is limited at the moment but we do know that because the EPA will change the way it calculates gas mileage as of 2008, Toyota will have to continue to lobby for this expensive technology as many tax breaks are being cut.
Compared to the Camry, the wheelbase is stretched by about 3 inches (76 mm), and ground clearance is increased by an inch (25 mm). The 2nd-row seat gets a stow-away feature which allows it to fold flat into the floor, a first in its category.
Power will come from the Camry's 270-hp 3.5-liter V6, and the Highlander Hybrid's combined horsepower rating is 270, including the 3.3-liter engine and Hybrid Synergy Drive powertrain. The Hybrid will also feature electric active steering and will host a full EV mode, which means it would run on battery alone.
The 2008 Highlander will be on sale in May or June of 2007, and the Hybrid model will follow two months later.
Last year, 175,000 hybrids were sold in the USA, 67% of them being Toyotas. The Prius was the best-selling hybrid vehicle, followed by the Highlander.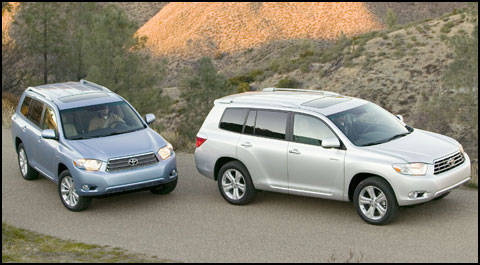 Highlander Hybrid (left) and Highlander (right)
photo:
Toyota