The market today is chockful of vehicles whose powertrain delivers over 400 hp. There are some with over 500 at their disposal, and even a few 600+ models! In this open-ended arms race, one company offers a 707-hp beast, and has even proposed one able to generate 840.
This is madness of course, but it's a facet of performance cars that generates a lot of passion. And passion, in the automotive domain, is a great selling point.
That company we're referring to is of course Dodge, a company often referred to as a survivor of another era, one in which the power a car generated was all that really mattered.
And if you go back in time some 50 years, that really was the case, At the tail end of the 1960s, specialized divisions of the American automakers competed to produce THE beast, or THE car that could get fans drooling and pull them in so tight they just had to buy one.
At Plymouth, in 1968, they delivered their offering.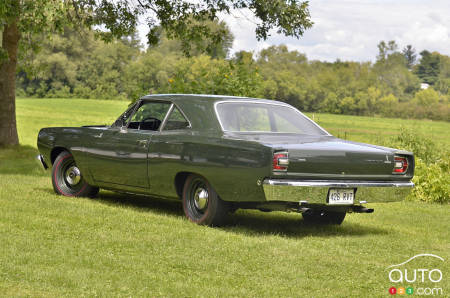 e headed off in search of a suitable Road Runner from this vintage to see if the reputation it has benefited from over the past half-century is merited.
We'll be answering that question by the end of this review, but first, a bit of context.
An orgy of models
In the late 60s, performance car lovers were like kids in a candy store: tons of choice, a desire to get some of everything… but a limited budget.
Consumers had to choose, and making that choice was far from easy.
Every manufacturer, in fact every division of every manufacturer offered several models that competed to offer more horsepower. There were Dodges, Chevys and Fords, of course, but also Oldsmobiles, Buicks, Mercurys, AMCs, Pontiacs… and Plymouths.
Most notably from the latter, there was the Road Runner, one of the craziest of the crazy offerings of the latest 1960s.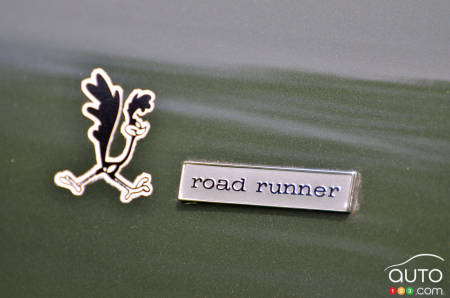 Rising prices
The first generation of muscle cars that appeared were actually fairly affordable. Pontiac, one of the domain's pioneers, had had the idea of sticking its most powerful engine into one of its smallest models. The result? A bargain-priced speed demon.
This recipe was copied elsewhere, but in time, prices started to climb. By 1968, not all muscle cars could be considered affordably priced. It was at this point that Plymouth had a brilliant idea. Its genesis was a call made by the sales department to a man named Joe Sturm, who was the director of product development at the company. The suggestion he got was to produce a car stripped of virtually all equipment (no carpet, no seats, no frills, etc.), but fitted with a powerful engine, and offered at a cheap price point.
The idea was positively received at HQ, and the project was greenlit. The aim was simple: create a car that could get to 100 mph in a quarter-mile, but would cost under $3,000 USD.
In the end, Plymouth managed a car priced at $2,870 – and with carpets and rear seats included!
The name given to the car was Road Runner, and the automaker even made a deal with Warner Brothers to use the character's logo. Sometimes, the stars align just right…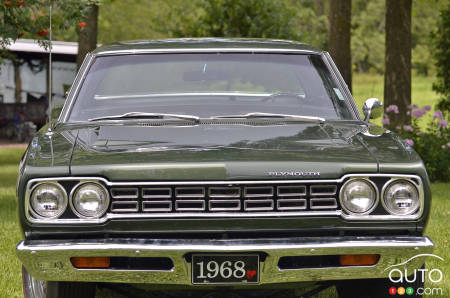 The 1968 Road Runner
The first Road Runners produced were equipped with fixed rear windows that opened sideways but couldn't be lowered – another cost-saving measure. The first models also featured a B pillar; it wasn't until the 1969 year that the model got a hard-top version without a B pillar. At that point the price tag did rise to just above $3,000 USD ($3,034, to be exact).
The base model came with a 383-cu in V8 that delivered a very healthy 335 hp at 5,200 RPM. For an extra $714.03, buyers with some money to throw around could opt for the famous 426-cu in HEMI engine and its 425 hp.

On the versions with manual transmissions, high-resistance suspension elements was another option, which brought the price up another $150 or so. These extra costs help explain why, out of the 44,599 Road Runners built in 1968, only 840 received the HEMI engine.
It was aboard one of these HEMI-equipped Road Runners that we had the opportunity to carry out our short road test.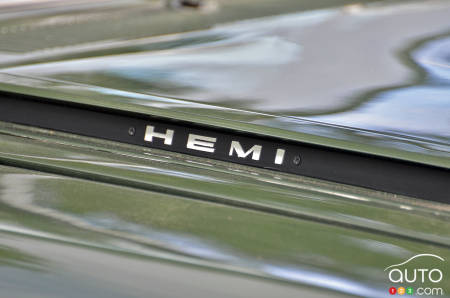 Taming the Beast 101
These days, when I get behind the wheel of a car with a 500- or 600-hp engine, my senses are alert, but I can't say that I feel nervous. The stability control systems do an extraordinary job to keep us on the straight and narrow if we get a little carried away or lose focus momentarily.
It's a whole other story with an old warrior fitted with a 426-hp HEMI under the hood. I felt a bit like I'd been thrown into the lion's den with nothing but a plastic whip to tame the beast. Nervous? Yes, a little.
Mainlining adrenaline
The taming process starts on engine startup. The beat roars ferociously, and its symphony serves to call you to attention immediately. You know you're in for a different driving experience.
Knowing what's under the hood and once treated to the wall of noise it produces, now it's up to you to harness the power and figure out the proper dosage. A loss of control is never all that far away, at least in your mind. But so is breathtaking performance.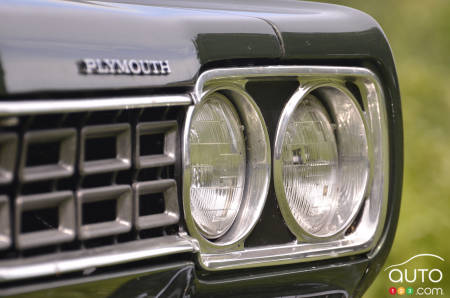 On the country roads we used for our road test, the first few accelerations were done in as "relaxed" a fashion as possible. It was important to feel out the kind of grip available to use and, crucially, to understand its limits. Ending up in a ditch never seemed a totally out-of-the-question possibility. In 1968, keep in mind, anti-skid technology was still many years away.
Gradually the confidence level got built up, accompanied always by a healthy dose of humility and respect. At this point it was possible to more fully take in the beautiful sounds of these mechanics from another era. Our test car was entirely of original equipment, so it was easy to travel back in time through the sights and sounds it was delivering.
Conclusion
So, to answer that question was asked at the beginning. Does the Road Runner deserve its reputation? Absolutely. This rustic model doesn't mess around, and it demands respect at all times when on the road. Even a moment's inattention can earn you a bite on the behind from this car.
Which of course is part of its charm for many. It's why a model like the Road Runner casts such a spell on driving fans.
And that's even more so because, as the cliché goes, they don't make 'em like they used to…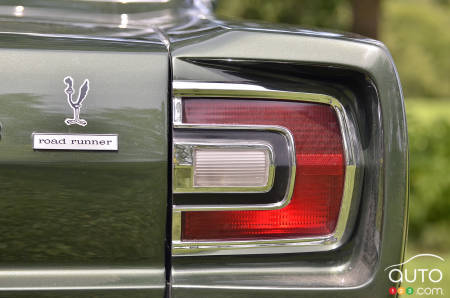 Specifications
Brand: Plymouth
Model: Road Runner
Year: 1968
Production : 44,599 units (840 with HEMI engine)
Price: $3,887
Engine: 426 cu in HEMI V8
Output: 425 hp @ 5,000 RPM
Torque : 490 lb-ft @ 4,000 RPM
Transmission: 3-speed automatic
Weight: 3,400 lbs (with 383 cu in V8)
Similar models in 1968: Buick Gran Sport, Chevrolet Chevelle SS, Dodge Coronet, Ford Fairlane, Mercury Comet, Oldsmobile 442, Pontiac GTO