The Self-Conscious SUV
If you drive a garden variety big SUV, you're probably all too familiar with the withering look of disdain and disapproval cast upwards from the driving public.
Sure, there is the odd 18-year-old dude, and yet odder 45-year-old guy, who glances up wistfully at the bulging body cladding and 18-inch wheels and tires with wanton attitude. In general though, most of the commuting public is not too impressed by the narcissistic leanings of the full-size SUV, and by association, those who drive them.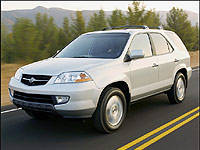 With big SUVs becoming less and less popular, small car-like SUVs like the Acura MDX satisfy the buying public. (Photo: Acura)
Automakers, particularly of the non-U.S. ilk, caught this disapproving scent a few years back, and so set out to create smaller SUVs with decidedly car-like characteristics to counteract a backlash to all things behemoth.
Offering the seating and cargo space (well, almost) of their full-size brethren, a higher-than-a-car seating position and peppy powerplants, these smaller SUVs are threatening to make their full-size stablemates about as rare as the once-ubiquitous station wagon.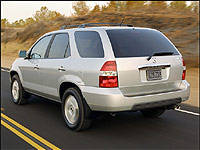 When the MDX debuted in 2001 it was apparent that it would be a winner. After more than two years it still is selling well even though, like most in its class, the price tag is a bit high. (Photo: Acura)
Without delving into a myriad of compact SUVs, the vehicles in question are the BMW X5s, the
Infiniti FX45s
, the
Porsche Cayennes
, the
Lexus RX 330
s and the Acura MDXs of the world. Call them the self-conscious SUVs. They have most of the utility of the big guilt-mobiles, but thanks to their svelte lines not the baggage. But at $50,000 and upwards, that's not to say this class fares well in the value for money category.
One of the best of the bunch since its debut in 2001 is the Acura MDX, a vehicle that right out of the box boasted all the trappings of this burgeoning market segment -- car-like handling and performance (and then some), good cargo space and plenty of legroom. When I first drove one two years ago it was apparent that the sporty mid-size SUV package was a winner. It still is.