2004 Lexus RX 330 - Moving Up the Bar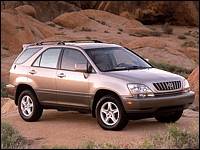 The outgoing RX 300 still looks good compared to competitive SUVs. (Photo: Lexus)
When Lexus launched the RX 300 in 1998 it changed the way the world saw the sport utility vehicle. The category initially comprised of vehicles that, when it came right down to it, were little more than modified pickup trucks, now had a luxuriously appointed, wonderfully refined, car-based member, a completely new alternative.
In hindsight Lexus read the market very well, and in so doing defined a separate market segment - the luxury crossover sport utility. Now the majority of new SUVs entering the luxury field follow a similar configuration, with entries arriving from Cadillac, Chrysler, Infiniti, Porsche, Volkswagen and Volvo joining those that have been around for awhile from Acura, BMW and Mercedes-Benz.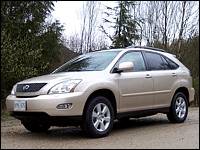 While the new 2004 RX 330 boasts many new styling features, its not difficult to source its origins. (Photo: Trevor Hofmann, Canadian Auto Press)
The fact that the outgoing RX 300 was still selling very well over the 2003 model year, an impressive feat considering its ending lifecycle, has much to do with Lexus' conservative approach to designing the new model. From the front, it takes a knowledgeable eye to point out the differences, and even confused one or two of the more seasoned journalists at the press launch when parked side by side. A much sportier profile and angularly shaped clear-lens taillight adorned rear, however, leaves the past far behind. The result of its new sheetmetal is a reduced 0.35 coefficient of drag (Cd), making the updated sport utility as serenely quiet as the brand's lauded ES 300 sedan.