Simply Sublime
I realized I was spoiled rotten when, at the Mont-Tremblant track in St. Jovite, Quebec, I'm frustrated because the Ferrari F430 test I'm about to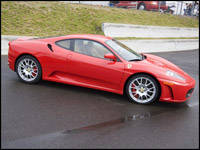 This brilliant red sports car is what caused me to fly halfway across the country. (Photo: Ray Watson, American Auto Press)
undertake is to be limited to three laps. Three laps! That's hardly enough time to get to know a car as painstakingly engineered as this.
Nevertheless, three laps were all that I had and I was going to make the best of the situation. While waiting I wasn't exactly twiddling my thumbs, mind you, as Ferrari had kindly offered up a lovely 612 Scaglietti plus an equally impressive Maserati Quattroporte to bide my time, both of which offered a great deal more performance than the majority of cars in their respective segments. But I'll leave full reports on each to another day, and now focus on the brilliant red sports car that caused me to fly halfway across the country in the first place.
Milling around the car prior to the testing process, I couldn't help but stare. It's one thing to catch sight of Ferrari's "entry-level" model in a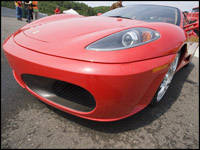 According to Ferrari, the F430 only carries over about thirty percent of the outgoing F360. (Photo: Ray Watson, American Auto Press)
photo, or even at an auto show, or for that matter in a dealer's showroom, but to experience the F430 in its element, in the metal,warming up in the pit lane ready to go out and do fast laps around one of Canada's premier race tracks, is a sight to behold.
Ferrari has done a marvelous job updating the car from its F360 roots, but to judge it as anything but all-new, in the automotive industry sense ofthe term, would be a mistake. After all, according to Ferrari, the F430 only carries over about thirty percent from the outgoing F360, and to the average enthusiast's eye, of which I'm one, only the greenhouse, the front edge of the hood and upper bumper appear remotely similar to the old car.