The Goldilocks Special
Imagine yourself shopping for a vehicle that will haul your family and all their belongings. You walk into a dealership, and see that interesting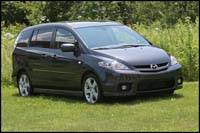 (Photo: Philippe Champoux)
minivan sitting there. You hop in and take it for a test drive. Woah! It's too big for you, as it doesn't handle as well as you'd like, and don't feel comfortable driving it.
You visit another dealer, and see a cute little station wagon waiting for someone to take it out for a spin. You hit the road in the wagon, but unlike the minivan, you feel claustrophobic. How is everybody going to fit in it?
But, a little further down the street, there's a Mazda dealer with a vehicle simply called the
5
. You take it for a drive, and--aah!--it feels just right. It's not too big, not too small, just perfect.
Let's face it: we don't need a gazillion horsepower to haul our kids around. The 157-hp engine in the 5 is enough. It produces enough low-end torque to get us moving along briskly and keep up on the highway. I averaged 10.7 L/100 km over the course of the test, which is pretty good, especially since the price of fuel is going up. The manual-transmission model should do even better.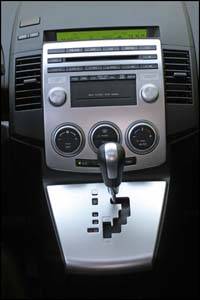 (Photo: Philippe Champoux)
I really would've liked a 5th gear in the automatic transmission, which would allow for snappier downshifts and even better fuel economy on the highway. What's ironic is that the
Mazda3
with the same engine is already equipped with a 5-speed auto. Maybe Mazda will put it in the 5 for 2007, we'll see.
What I really find interesting, is that this mini-minivan provides a sporty character, in typical Mazda fashion. Its pipsqueak dimensions makes for entertaining handling. The 5's suspension is tuned just right; it's soft enough for comfort on the highway, but just tight enough for twisty back roads. So, you can still have a little fun behind the wheel even after the birth of your children.
Inside, there is obviously less space than in a conventional minivan, but personally, I find that the 5 is perfect for my family of four. My son is actually thrilled to sit way back in the 3rd-row seat, which are better off being occupied by kids rather than adults. Cargo space is somewhat limited with all the seats up, but when both rows of rear seats aren't in use, they can be folded down for extra carrying capacity.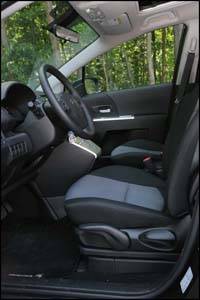 (Photo: Philippe Champoux)
Unsurprisingly, the interior materials are Mazda-grade top-notch. The dashboard is nicely textured, and the silver accents on the dash and door panels add a little contrast to the dark plastic. The gauges are easy to read, and the ventilation controls with rotary dials are a no-brainer. However, the sound system has too many dead buttons; you can order an optional 6-CD changer, but without it, you have a useless 'LOAD' button, for example. There is also a dead 'SAT' button, which makes us guess that it's XM or Sirius ready, but how do you hook this up? I dunno.
The front seats are nice and supportive, and the seat cushion is high, which means you sit upright. What really struck me is how comfortable the 2nd-row captain's chairs are. The seats are covered in two-tone fabric that feels very good. A tray swings out of the right-side middle-row seat, which is practical since you can store it out of the way when it's not in use.