Versatility, Thy Name is Forester
Make no mistake, Subaru builds some very exciting cars. The
Impreza WRX STI
is the rally-tested sedan that can smoke Italian exotic cars on the race track in any weather conditions. The
Legacy GT spec.B
is an immensely capable sports sedan for the slightly more mature set. And the
Outback
is a rough 'n tumble crossover wagon that manages to look stylish all the same.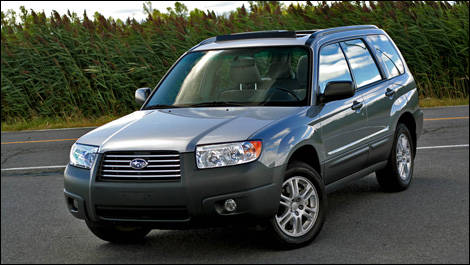 The Forester may not be the most exhilarating vehicle there is but it is a great vehicle nonetheless.
So, yes, Subaru does build some exciting cars. But on the surface of it, the Forester is not one of them. Unless visibility excites you. Or cargo capacity. Or you're talking about the
Forester 2.5 XT
, which is powered by a 224-horsepower turbocharged boxer engine that growls like a wild animal in search of a late-night snack.
However, we're talking about the 2007 Subaru Forester 2.5XS, the middle child of the vehicle range, set in between the base 2.5X and the aforementioned XT. The XS shares its engine with the base model, but comes equipped with some more serious parts with which to have fun. Still, the question remains: Is it exciting?
Solid Engine, Steady Performer
The Forester is powered by a 4-cylinder engine; more specifically, a 2.5-litre horizontally-opposed engine, otherwise known as a "boxer". This engine configuration is shared with all vehicles in the Subaru line-up and with a key member of the Porsche family, the 911.
In this case, the engine develops 173 horsepower at 6000 rpm and 166 lb-ft of torque at 4400 rpm. In testing, the Forester proved capable for around-town driving; it's no speed demon, but it does the job. Estimates place its 0-100 km/h acceleration time at around 9.5 seconds. Where the engine felt a bit weak, though, was in merging onto highways.
Some people may not realize this, but the gas pedal is nearly as useful as the brake pedal when it comes to avoiding potentially dangerous situations on the road. Exhibit A: You're merging onto a highway and the semi-tractor trailer in the slow lane isn't showing much interest in letting you in. In the right car, a quick stab of the gas pedal can immediately alleviate the situation.
Unfortunately, this is not the case with the Forester; you have to plan your merging -and your passing on two-lane roads, it has to be said - well in advance. That said, the version tested was fitted with the 4-speed automatic. While this transmission is fairly smooth - and working the manual shift mode did help keep the revs up - it still seems like it needs that extra gear to extract the most from the boxer engine.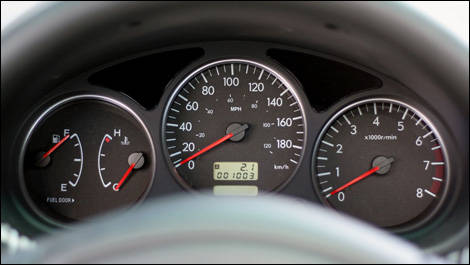 The basic instrumentation is easy to consult.