A good idea
There are more and more self-employed workers out there, which means that 1) businesses make more profit by subcontracting part or all of their operations and 2) a growing number of people like the idea of being their own boss.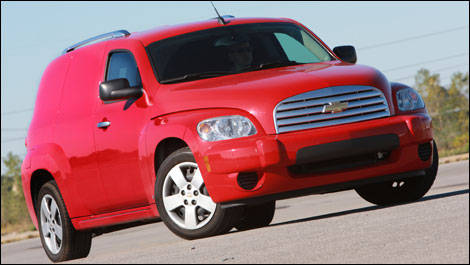 The HHR Panel is a nice combination of retro and modern styling.
Not matter the reasons, certain fields of activity require workers to use more than one vehicle. Delivery companies are a prime example. Plumbers and electricians also need a special vehicle to carry their equipment.
Full-size vans like Ford's E-Series, Chevy's Express, GMC's Savana and
Dodge's Sprinter
offer tons of room and a host of accessories to optimize storage. But what if you don't need such a big vehicle? Plus, you have to admit that the aforementioned heavyweights are not fuel-efficient at all, even when equipped with a diesel engine. A compact van, say a
Chevrolet HHR Panel
, is sounding more and more interesting.
Room to spare
The main highlight of the HHR Panel, obviously, is the incredible amount of luggage you can fit in the back. GM strived to maximize the available space and make loading items easier.
The flat cargo floor and rubber carpeting that prevents objects from sliding are quite handy. Under the floor are a couple of storage bins that allow you to keep smaller items in a more secure place hidden from prying eyes. However, it seems to me that these bins, which are accessible through the side doors (in place of the regular HHR's back seat), could have been made larger.
The HHR Panel offers a total cargo capacity of 1,787 liters or a maximum payload of 408 kilos. By contrast, a Chevy Express with standard wheelbase can swallow up to 5,776 liters or a maximum payload of 615 to 1,893 kilos, depending on the model. Okay, I may be comparing David against Goliath. Still, when the items you have to carry are flowers -- or PVC pipes and a set of wrenches -- you don't
need
as much capacity.
As for the rear doors, they do not feature outside handles. They can be opened with the remote or the controls mounted on the left of the steering wheel.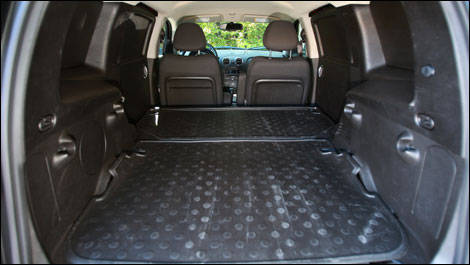 The flat cargo floor makes loading items easier.