I'm barely exaggerating when I say that the
Audi A8L
is "made in Quebec". Our very own Dany Garand is the one who penned the lines of this sensational car. That was enough for me to fall in love, as I am extremely proud when local talents reach the highest spheres of the auto industry. I'm even more proud because this timeless beauty is one of the most prestigious automobiles on the face of the Earth.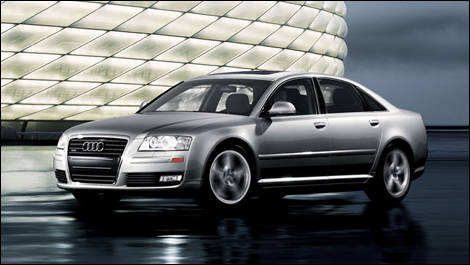 At over 5 meters long, it's actually one of the largest sedans out there.
The A8 has been designed with the utmost attention to detail. Believe me, I know what I'm talking about. From the outside, the car demands respect -- at over 5 meters long, it's actually one of the largest sedans out there. The near-perfect shape and proportions incorporate a long hood, Audi's new corporate grille, a semi-circular roofline, gigantic wheels and a massive, low-slung rear trunk. The overall styling is classic and understated.
For 2008, a few minor revisions have been made to keep the A8 up to date. The current design, after all, dates
back to 2004
. Since the competition includes nothing but the finest from the auto industry, anything less than excellence is not an option. That said, only a keen eye will notice the subtle changes; I personally couldn't, even though I've been a huge fan of this car since day one. The bumpers and fog lights are redesigned, while the rear taillights now use LEDs. Like every other premium full-size sedan, the A8L overflows with character. And of course, build quality is exceptional.
Money doesn't buy you happiness...
... but it sure provides amazing comfort! Saying that the A8 is a success in terms of style and luxury would be an understatement. Yet, beyond the plethora of features and amenities, it's the clever, functional layout that won me over. The center console is pretty short, but the low center stack makes up for it by putting the controls within easy reach of the driver for user-friendly operation. The instrument cluster is superbly executed, while the combination of rich materials, including Valcona leather, Alcantara, aluminum and Walnut wood, is worthy of a queen like the Audi A8.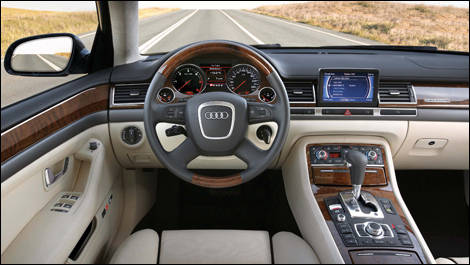 The controls are within easy reach for user-friendly operation.