The 2007 to
2008 Audi RS4
might have been one of the world's foremost sleeper sedans. Subtle and discreet styling upgrades concealed a track-tuned chassis, high-performance version of the brand's Quattro AWD system and a race-ready 4.2 litre V8 engine.
Perhaps the RS4's most famous asset, the specially-developed powerplant created 420 naturally-aspirated horsepower and revved to beyond 8,000 RPM in the process. And take it from your writer folks: few legal substances or activities can create the same euphoric rush as hearing this engine sing at full rip.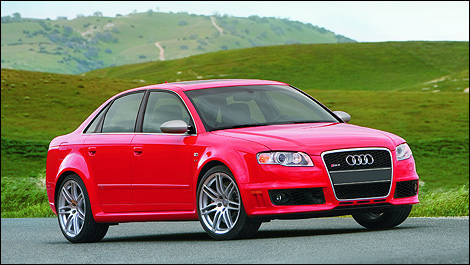 Photo: Audi
The RS4 Sedan was available on our shores as a 2007 or 2008 model that came just one way: with V8 power, Quattro AWD and a six-speed manual transmission. Upgraded aerodymanics, brakes and suspension components completed the package. Best of all, resale values are dropping-- and the
formerly $100,000-plus car
can now be had for a relatively reasonable amount of money.
Used RS4 shoppers can expect to find heated and power-adjustable leather seats, a sunroof, navigation, xenon lights with steerable projectors, a Bluetooth phone interface, a track computer, a driver information computer and the legendary 'S' button. The latter feature, among other things, activated a louder and more aggressive exhaust note and sharpened throttle response to toggle the RS4 between 'badass' and 'uber badass' on command.
No major surprises about owners likes and dislikes here. Despite the very limited number of RS4 owners (and even fewer taking to the internet to share their ownership experiences), it's apparent that RS4's discreet, ultra-performance execution was its major draw. Performance, relative comfort handling, all-season capabilities and a semi-practical four-door body rounded out the owner-stated praise-points for the RS4.
Gripes commonly included limited rear-seat space, a rough ride on some surfaces and, of course, excessive fuel consumption. That's the price to pay when feeding 8 cylinders 8,000 RPM worth of gasoline through an advanced direct-injection system.
Information on RS4 reliability and common problems is extremely limited due to the short model lifespan and miniscule sales numbers—though several issues were documented in online communities.
Before a test-drive, shoppers should ensure the used RS4 candidate's engine is 'cold' by opening the hood or briefly touching one of the exhaust tips before startup. Sometimes, a seller will pre-warm the engine to prevent it from showing signs of smoke, making a certain noise, or idling erratically when it's cold. Some RS4 owners have reported blue oil smoke on cold startup, and this smoke may not be apparent when starting a warm engine.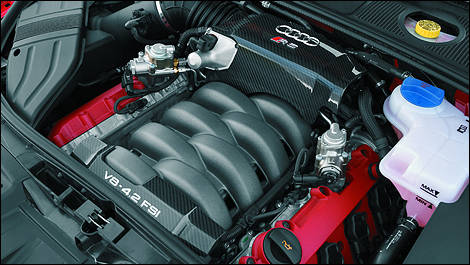 Photo: Audi