Audi's small sports car ideal for technophiles and track-day enthusiasts alike
If you want to check out a fantastic pair of TT's, you needn't look much farther then your local Audi dealership. The hot new models are in, with slim, sexy styling, muscular lines and scandalous figures. I hear that one of them will even go topless on demand, for a bit of extra money. That's the
TT Roadster
, by the way.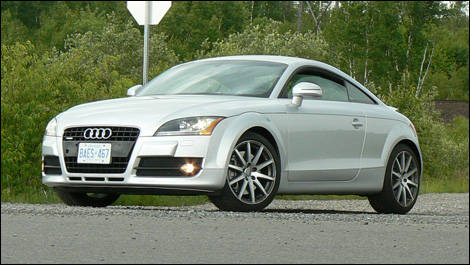 The new TT has a more dramatic and stern look compared to the previous model.


Memorable style
Updated for 2008, the look is even more dramatic and daring- less tubby and vastly more meaningful and stirring. The tall front grille is flanked with bi-xenon headlights, while energetic lines adorn the wind-swept body which is outlined in a classic 2+2 silhouette. The TT terminates in back with a set of 3-D taillights perched atop dual outlet exhaust. Its styling is truly memorable- sure to go down in the books. It doesn't look even slightly like an overturned bathtub, anymore.
Technology
The high tech "S-Tronic" transmission lets you make the tachometer needle dance to your hearts content. The shifter can be left in drive, in a sport mode, or parked off to the right allowing for steering-wheel mounted paddles to send gear-change commands down into the computer. Swapping of gears takes place in milliseconds, blipping included. There's even a computer guided launch control function to extract the best possible off-the-line acceleration while keeping the transmission shop's phone number out of your speed-dial.
S-tronic is a treat, and enables an F-1 soundtrack and a real euphoric rush. But the transmission can sometimes become clumsy in slow traffic: occasionally displaying a confused state of mind, holding a gear too long, selecting the wrong one for the situation, or lurching abruptly for no apparent reason.
These occasional clutzy decisions and the resulting harshness are unbecoming of a car wearing a $70,000 price tag.
Safe Speed
The suspension has an adaptive sport setting that can be selected to intelligently firm up the struts and actively tighten the TT's death-grip on the road. A speed-deployable rear spoiler helps in this department too, and always gets noticed by the occupants of the vehicle behind you.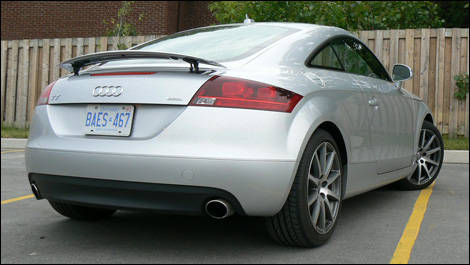 The TT feels as though is it riveted to the ground thanks to its sophisticated adaptive sport suspension.