I can easily picture myself driving this elegant convertible on the winding roads of the Isle of Man. Since 1905, it's on this island in the Irish sea that bikers from all over the world participate in one of the most gruelling competitions ever: the
Tourist Trophy
, known as the "TT" to the initiated. This is the acronym that Audi borrowed almost a century later to christen its impressive compact sports car, the
TT 3.2 quattro
.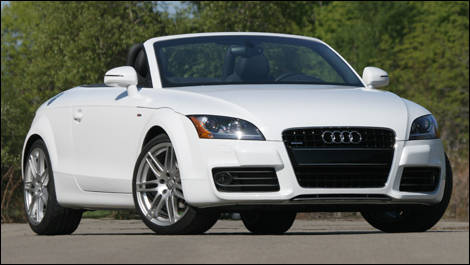 The Audi TT 3.2 quattro is a fantastic sports car, both in handling and in the quality of its interior layout.
I was understandably enchanted.
The TT doesn't have the presence of a
Nissan 350Z
nor the have-you-seen-me look of a
Solstice GXP
. It doesn't offer the sophisticated driving experience of the weekend errand boy that is the Honda S2000, nor tantalizing curves capable of seducing James Bond, like the
BMW Z4
. Yet the voluntary simplicity of its design evokes an undeniable joie de vivre. And this baby sports a trunk that lives up to its name, unlike a certain Solstice I know.
Bring on the lottery tickets!
The TT 3.2 quattro is one of those luxury roadsters that we can afford with the help of a winning lottery ticket. With a price tag hovering around $70,000 after taxes, this is not a people's car.
And for good reason: it's similar to a Porsche Boxster. In price, obviously, but also in its curvy contours, its compact proportions and its stimulating performance, ensured by a multi-valve, V6 engine.
Shorter than a Boxster, it's nevertheless a few hundred pounds heavier. A contrast no doubt related to the all-wheel drive system, the feature that makes all the difference.
Because on the road, even if the diminutive Porsche handles with the precision of a scalpel, the TT is literally glued to the pavement, be it wet or dry. The flexibility of the all-wheel drive's Torsen system (which isn't included in the less expensive
TT 2.0T
) ensures a reassuringly easy ride.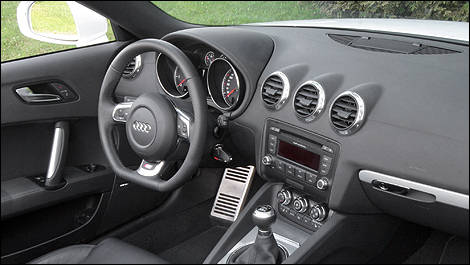 To make access easier, the driver benefits from a flat-bottomed steering wheel.