A Rousing Ride With or Without Sun
Audi's hot little roadster is reborn for 2008. Although not dramatic, design changes increase the TT's size and in the case of the roadster, its torsional rigidity by 120-percent. This week's tester is the 3.2 litre quattro, featuring all-wheel-drive (AWD) and Audi's S tronic six-speed autobox.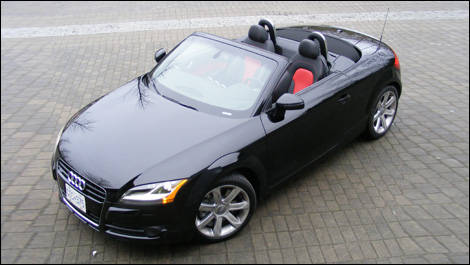 The TT has evolved to a more substantial car


Styling becomes more lustful
Unlike the TT Coupe, which has a rear seat, the
TT Roadster
limits its fun to two occupants at a time. Fun that in twelve seconds can go from enclosed to open with the push of a button. That's how long it takes for the power-operated cloth top (standard on the 3.2 and optional on the 2.0) to accordion and neatly stow itself behind the front seats.
Like most soft-top roadsters, the TT's fabulous lines come alive when its roof is retracted and the sun is glinting off of its sleek body, highlighting the car's symmetry and sensuous curves. The softness projected by the new sheet metal ends abruptly at the TT's front bumper, whereupon a massive Audi grille adds a dose of snarling aggression to the roadster's otherwise genteel appearance.
To complement the new sheet metal, Audi built upon all that was right with the TT's interior creating a product that retains a similar theme while becoming more upscale and better thought-out. The cabin is accurately assembled and furnished with high quality materials and attractive highlights. Controls are easy and intuitive to operate, which is a breath of fresh air in these days of interface screens and multi-function controls.
A rather unique touch I grew to appreciate was the TT's odd-shaped steering wheel. While I have always found Audi steering wheels to be among the best ergonomically, this wheel goes further with the inclusion of a horizontal bottom section. Flattening of the lower portion of the wheel provides greater thigh clearance but also enhances directional intuition by communicating steering wheel positioning more effectively.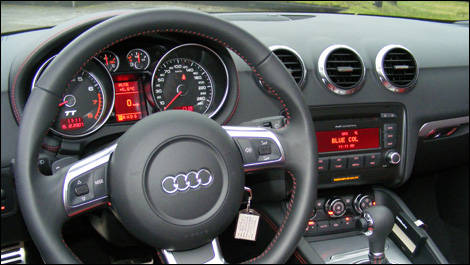 Everything is laid out perfectly making it easy to operate.