A new look for the TT
My first series of tests with the 2008 Audi TT had to be cut short because of the atrocious weather conditions that recently besieged the Greater Montreal area. But neither the lashing rain nor the strong winds or the heavy melting snow prevented me from appreciating the masterfully executed design of the new, second-generation TT. The result is even more remarkable considering that it's always risky to alter a design that holds a special place in contemporary automotive history.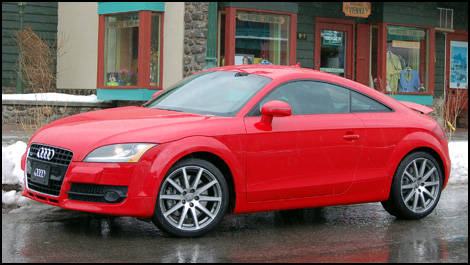 Too bad Mother Nature did not cooperate.
As you probably remember, the first TT made quite a splash upon hitting the market in 1998. It rapidly became an icon, which created kind of a problem: how do you keep the styling fresh without compromising the original charm? The same dilemma happened at Mazda (Miata), BMW (MINI), Volkswagen (New Beetle) and Ford (Thunderbird). Some succeeded. Others failed miserably. Has Audi found the right solution? You be the judge. As far as I'm concerned, my answer is a resounding YES.
A pure sports car?
The first phase of the "TT mission" is therefore completed. But since Audi executives want to talk about a sports car, the TT must offer much more than just looks. It has to know how to move, and not just in a straight line.
Consequently, Audi designed a new chassis mostly made of aluminum in order to reduce the car's weight and increase its stiffness. Actually, 70 percent of the architecture is made of aluminum, which makes the TT lighter than the first generation. That allows for superior power and fuel economy. Also, the steel parts are mainly located at the back so as to optimize the overall weight distribution. How ingenious! The front suspension and, obviously, both engines also use aluminum. The first is a 2.0-litre, 4-cylinder turbocharged engine that produces 200 horsepower. It's so good that an international jury recently awarded Audi the "World Engine of the Year" title. There is also a 250-hp, 3.2-litre V6. However, don't let these impressive numbers fool you; these are two very different powerplants. With 207 lb-ft of torque available between 1,800 and 5,000 rpm, the 2.0T's performance is surprisingly spirited. Yes, the V6 is more potent and achieves higher torque figures (236 lb-ft at 2,500 rpm), but it must propel an additional 115 kilos (1,260 kg for the TT 2.0T compared to 1,410 kg for the TT 3.2 quattro). The V6's fuel consumption is also higher.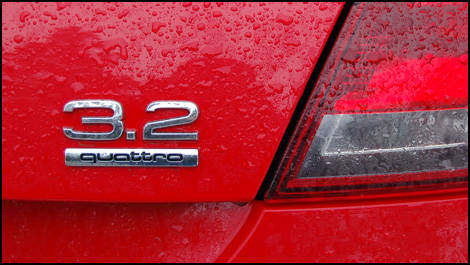 The Audi TT 3.2 quattro is more powerful but has to carry more weight.