When the Saturn brand was created at the end of the '80s, General Motors was convinced that its new division would steal sales from the emerging Japanese brands. Well, it didn't happen.
Offered in coupe, sedan and wagon variations, the first Saturns were curious cars to say the least, with its plastic body panels and peculiar shape. But they were far from offering the refinement and quality that Honda and Toyota were already recognized for.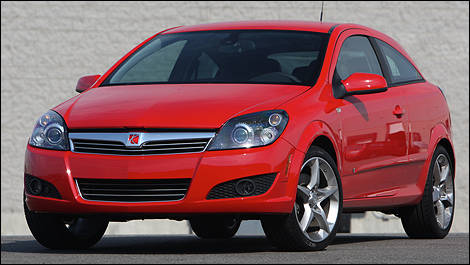 Its German engineering makes it a solid car with a driver-oriented attitude.
20 years later, the brand's been assigned to a new mission, and might better succeed this time around. Saturn will host products that will come from GM's European divisions, Opel and Vauxhall. Oh yeah, the arrival of the Astra, which replaces the Ion, marks the end of polymer-paneled Saturns.
Your choice: 3 or 5 doors
The 5-door Astra gets
XE
and
XR versions
, but the 3-door is only available in the more expensive clothes. Although both cars looks good, clean and svelte, the 3-door proposes a more aggressive demeanour, owing to its lower roofline and some other minor differences.
In short, both cars offer versatility, but if you're planning to carry passengers or cargo frequently, the 5-door will definitely make more sense. And yet, climbing in back of the 3-door doesn't require a chiropractor afterwards, and once sitting down, you'll realize that there is actually a fair amount of room, even for 3 people.
However, this test car's biggest shortcomings are the fat C-pillars and minuscule rear window that complicates rearward visibility. Backing out of a shopping center parking space requires your complete attention.
Solid like a bank vault
The interior environment is a little dull, but otherwise, the build quality and use of rich-looking materials are things that Cobalts and G5s could dream about. The switchgear feels solid and substantial and there are no apparent squeaks or rattles. Suspension noise doesn't filter though the cabin, and the engine's noise isn't intrusive while driving 100 km/h on the highway despite it spinning at 3,000 rpm.
Some of the buttons and controls have pictograms that give you absolutely no clue what they do, but you obviously get used to it once you'rv tried them. The heating and ventilation controls are low on the center stack and hard to reach because they're behind the shifter. The information screen has amber-colored lettering and looks '80s-vintage, but it gathers all the necessary info, including a fuel economy meter.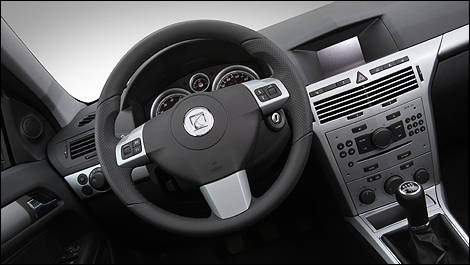 Some of the buttons and controls have pictograms that give you absolutely no clue what they do.