Only two 'all-new' trucks are available to Canadian shoppers this year: the
Dodge Ram
and the
Ford F-150
. The
Automobile Journalists Association of Canada (AJAC)
recently met to test, compare and evaluate the two as part of an annual 'Test Fest' conducted with the newest vehicle models.
Once the votes were counted, it was the Dodge Ram that took home the gold--leaving Ford's new F-150 behind in second place. We'll focus on the runner up today--but with a look at the winner for comparison's sake.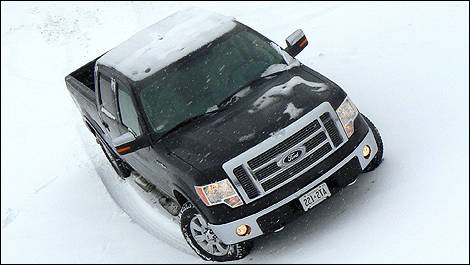 Ford's been focusing on increasing towing capacity, utility and the overall workability.
The legend gets updated
Ford's best-seller has been fitted with new features and tweaks to make it more efficient, capable and accommodating than ever. Like the Dodge, engineers have bolted on plenty of unique, stand-out goodies alongside a level of capability ideal for those intending to work their truck.
The tester wore a new Super Duty-inspired fascia, plenty of chrome, and a new tailgate and taillights. It's more muscular than the model it replaces, but just as easily identified.
Premium hardware and appointments
Priced a little north of fifty grand, the F-150 Lariat tester amounted to a workable hauler that can do double duty as a high-end family sedan.
Heated and air conditioned seats, power everything, a backup camera and a power-sliding rear window were all on board. It's missing the heated steering wheel and 120V power outlet you'll find in the Ram, though F-150's infotainment system is far the Dodge's superior--boasting better sound quality and more modern-looking displays. To the delight of seasoned pickup owners, the F-150 can even read incoming cell phone text messages.
F-150's complicated array of climate and audio controls demands more precision than those of the Dodge, and they proved difficult to manipulate while wearing gloves. They work towards a more modern and upscale look though--especially after dark when everything lights up icy-blue.
The F-150 Lariat amounted to a workable hauler that can do double duty as a high-end family sedan.