I'm on a roll. As far as I'm concerned anyways. And no, as you can tell by what I will be writing about, I'm not high-rollin' or pimping it out in performance or luxury cars. In fact, since the beginning of 2010, with the exception of the
Mercedes S400
, I've been testing out vehicles exclusively with hatches. And, believe it or not, I've got tons more coming my way in the near future. This is proof-positive that a hatchback is a very popular option in the 21st Century.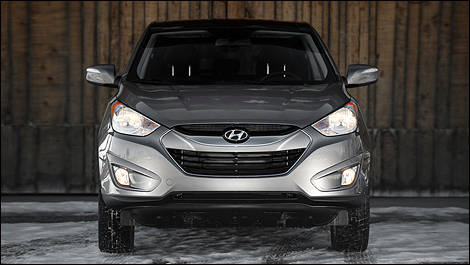 Tucson is an impressive product and so expect them to take over suburbia over the course of the spring and summer. (Photo: Matthieu Lambert/Auto123.com)
One that seriously stands out and has set a new level for the bar in the evergreen compact CUV segment is the all-new
Tucson
. The previous generation Arizona-Town Hyundai was fairly successful as deliveries were strong from the onset of the vehicle for the 2005 model year.
Hyundai played its best card when it reinvented the Tucson; much more of everything for the same buck. No longer is the Tucson, in appearance and content anyhow, a basic family vehicle that someone would select purely based on price. For 2010, this compact crossover utility vehicle is one that consumers will really want. Hyundai design is on fire! Think of the Genesis,
Genesis Coupe
and the new Sonata.
Upscale deal
Irregardless of the trim, the new Tucson has hoisted itself above staples such as the Toyota RAV4, Honda CR-V and Ford Escape. And this, in many more ways than one. One of them is for its styling. Mature, modern and sleek and ever so much more appealing than its predecessor, the 2010 Tucson is the next generation in compact CUV design.
Incorporating dynamic bodylines, high-mounted profiled headlights and a not-too-serious grille, the Tucson makes waves; by comparison, a Nissan Rogue looks like a sausage... From any angle, euro-inspired Audi, BMW and Mercedes-like design cues abound; we know where Thomas Burkle went to school. Whatever the case, a fine job indeed!
All of this praise carries into the cabin unscathed. The dashboard's pleasant symmetry shows off an attention to detail typically reserved for higher-end vehicles. Fit and finish are tighter than the latest offerings from other Japanese makers as are the materials. Here's an example: the leather that was draped over the seats of my Limited was thick and supple.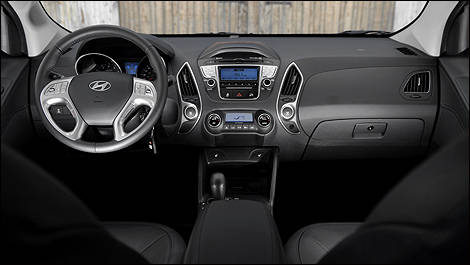 The dashboard's pleasant symmetry shows off an attention to detail. (Photo: Matthieu Lambert/Auto123.com)