It's the right size for many, and with the comeback of the
station wagon
, Volkswagen has a winner on its hands with the introduction of their Golf wagon.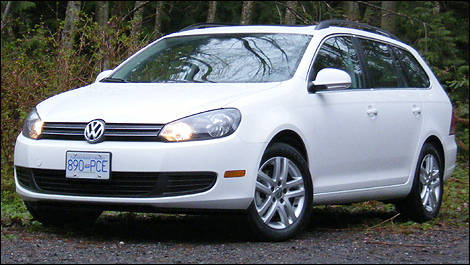 As well, the "right-sizing" of the Golf Wagon makes it a snap to park. (Photo: Rob Rothwell/Auto123.com)
Jetta's loss is Golf's gain
The
Jetta
lineup is now sans a wagon while the lineup of Golfs now includes a wagon—go figure. I guess it's possible to have too many wagons unless you're a kid yearning for yet another Radio Flyer. In Volkswagen's case, a Jetta and Golf wagon would be duplicating services to an unacceptable, or perhaps unprofitable, degree.
Although I didn't move house during my time with the Golf Wagon, I found its size to be perfect for most wagon-related chores—not too big and not too small. As well, the "right-sizing" of the Golf Wagon makes it a snap to park; a wonderfully tight turning radius and good rearward visibility further aid that task.
A value-laden wagon exhibiting smooth clean lines and precision fit
A characteristic I've always admired about Volkswagen products is the clean, symmetrical design language applied to their vehicles, the simplicity of which prevents them from appearing prematurely dated. For example, the 1998-2001 series Passat remains, in my view, an attractive sedan that continues to look modern and appealing inside and out.
Try saying that about a 1998 Ford Taurus!
The spacious cabin of the
Golf
also features a clean, uncluttered look. The quality of materials in use and the accuracy of assembly defy the vehicle's base entry of only $22,675. My nicely equipped Comfortline-trimmed tester featured a panoramic glass sunroof, roof rails, heated front seats, premium audio and many other niceties such as a 6-speed automatic transmission, all for a reasonable $28,255.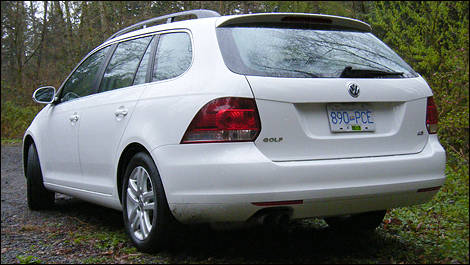 A characteristic I've always admired about Volkswagen products is the clean, symmetrical design language applied to their vehicles, the simplicity of which prevents them from appearing prematurely dated. (Photo: Rob Rothwell/Auto123.com)