Sitting through "Ironman" yet again with a good friend's ten-year old, it occurred to me that the film was a virtual showcase of Audi's lineup.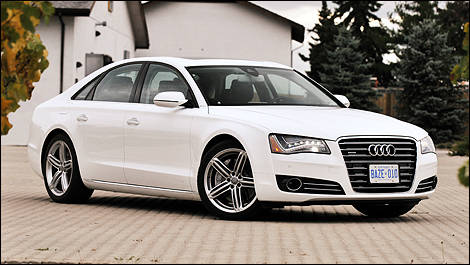 The A8's all-aluminum skin stretches tautly across broad flanks and finishes in blunt, squared-off corners. (Photo: Matthieu Lambert/Auto123.com)
From the
R8 Coupe
in Tony Stark's dream garage, to "Pepper" Pott's silver S5, to the screaming-family laden Q7 wrestled from the steely clutches of Ironman's towering nemesis, the signature 4-ring snout plays a recurring background role.
It's canny product placement like this that's helped transform Audi into one of the hippest players in the luxury segment.
Audi's flagship A8 sedan has always flown somewhat below the radar, with styling that, although refined, nevertheless fell on the ho-hum side of understated.
The A8 returns in 2011 with an attitude adjustment. The wheelbase is longer and wider, but the height has been lowered for an improved centre of gravity. The all-aluminum skin stretches tautly across broad flanks and finishes in blunt, squared-off corners.
Sharply defined, the rear end strongly resembles the
A5's
posterior, while the lovely yet menacing white-hot LEDs made popular by the R8 flank the gaping corporate trapezoidal grille. Hunkered down over large, fender-filling multi-spoke rims, the A8 offers up a subtle yet unmistakably more aggressive demeanor.
The beautifully crafted cabin serves to remind that Audi set the benchmark for interiors that other manufacturers strive to equal.
My tester boasts sumptuous chocolate leather with contrasting Alcantara suede on headliner, pillars and visors. Well-bolstered seats are plump, supportive, 22-way adjustable and feature a naughty-but-nice massage system that can be modified on-screen to gently knead or vigorously thump those aching muscles into blissful submission.
Like others in this segment, the A8's cabin is a technical tour-de-force of safety systems. Among these are the redesigned
Multi Media Interface (MMI)
featuring touchpad control and Google 3D NAV mapping, adaptive cruise control, adaptive headlights, a new nighttime thermal imaging system that detects pedestrians and a "pre sense safety system" that in the case of an impending crash, closes windows and sunroof, tensions the seatbelts and partially applies the brakes.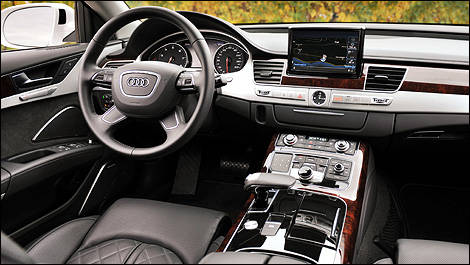 The A8's cabin is a technical tour-de-force of safety systems. (Photo: Matthieu Lambert/Auto123.com)