Only when you have supreme confidence in your award-winning, sales-leading, benchmark vehicle can one even consider bringing forth such a change to the recipe. This is a delicate move on Ford's behalf. This is the equivalent of dropping a 4-cylinder in today's
Mustang
(yes, it's the way it used to be, I know). What is this alteration? Making a lesser-displacement turbocharged V6 an engine choice.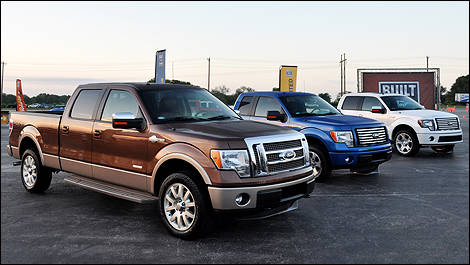 The 2011 F-150 is best in class for towing, payload and, if Ford played their cards right, which I think they did, fuel economy. (Photo: Mathieu St-Pierre/Auto123.com)
I can scarcely imagine what a discussion on dropping a turbocharged V6 in an
F-150
would have sounded like in Dearborn five years ago. "Are you mad?" "What's the matter with you?" These are the words that would have been uttered by decision-makers to the one suggesting such a radical idea.
Today, the 2011 has a turbocharged V6 and it's only part of the new F-150's story, but it's by far the most significant. The other main characters in the Ford's tale are three other new engines, for a total of four. Not only is this the first time that a turbo engine finds its way into the belly of a pickup but, to my knowledge of recent automotive history, no one has ever introduced four new powerplants in the same sitting.
The Ford F-Series. The best selling, most recognizable pickup nameplate of all time. A few brief details to support this statement: Sales leader for 33 years (F-150), 2010 year-to-date sales up 29% (industry average at 9%), the F-150 is out-selling the GM Silverado and Sierra combined, the Super Duty has a near 40% share of the heavy-duty segment and, it's only going to get better.
Good F-150
The current F-150 came to be as a 2009 model-year truck and it reset the bar. The bar that it had set a few years prior. This truck was and is the stiffest, most substantial and tightest-feeling pickup of the segment. The
Ram 1500
, which has merits, comes in second thanks to its 2009 overall shakedown but Ford saw them coming, or so it seems. You obviously get the impression that you've bought a tank when perched behind the wheel of the F-150, however when you look around, you most evidently are not in a spartan tank cabin.
I'm getting away from what I should really be writing about here but, and I've said this before about modern pickups, these things are really refined, comfortable and relatively easy to live with. Regardless of trim, the F-150 has good-to-great seats, an all-business dashboard and a Fiesta's trunk worth of storage in the passenger quarters. Fit and finish are superb and materials are top notch.
Over the years, Ford has listened to their customers and this is how they have managed to garner such praise for their product. Only one issue remained in fact and it was, yes was, the most important unaddressed issue common to a majority of pickup owners: fuel economy.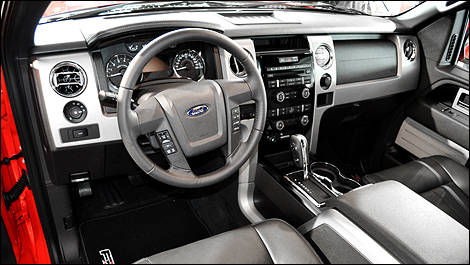 Regardless of trim, the F-150 has good-to-great seats, an all-business dashboard and a Fiesta's trunk worth of storage in the passenger quarters. (Photo: Mathieu St-Pierre/Auto123.com)