Audi is a company which often baffles me. Typically, each model update brings a noticeable increase in vehicle size, at least with regards to the
A4
, so I'd kind of expected the same to happen with the arrival of the
new A6
.
After all, most car companies are steadily increasing the size of their models; big is still thought of as beautiful in North America, and an increase in size is often perceived as offering more value for money. But why would anyone cough up their hard-earned cash for the A6 when the current A4 is fairly close in dimensions?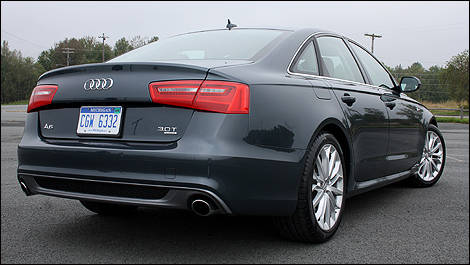 Audi mades its new A6 so downright spectacular that it shines like a beacon in the Audi line-up! (Photo: Michel Deslauriers/Auto123.com)
Well, just when I thought I had it all figured out and the new A6 was going to be bigger and better as they say, Audi goes and throws a curveball at me again, because the latest version is no larger than the vehicle it's replacing. In fact, it's both slightly shorter in length and height than its predecessor. It's also considerably lighter, due to an increase in the use of aluminum.
Now that sounds all well and good when it comes to performance & handling, but surely my viewpoint on vehicle sizing still holds true. How does one justify the additional price of the A6 when the A4 already offers such amazing value for money in a vehicle somewhat similar in size?
Well, it appears Audi is one step ahead of me on that, because it's simply made its new A6 so downright spectacular that it shines like a beacon in the Audi line-up!
The exterior of the new A6 features a much more refined and, dare I say, upmarket look to it. In fact, from a distance, one could be forgiven for mistaking this for the company's flagship A8.
The now famous and much-loved LED running lights are complimented by LED units to the rear, yet tick the right option box and you can now add some superb LED headlights to the mix. These are wonderful for any number of reasons and once you've experienced them it's hard to readjust to driving without them.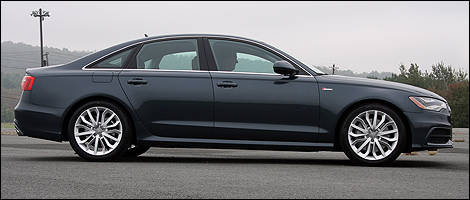 The exterior of the new A6 features a much more refined and, dare I say, upmarket look to it. (Photo: Michel Deslauriers/Auto123.com)