BMW's got the
5-Series Gran Turismo
, Porsche has the
Panamera
and Acura has the
ZDX
. Now Audi joins the 5-door sportback craze with their 2012 A7, which takes the gold when it comes to looks—at least in my eyes.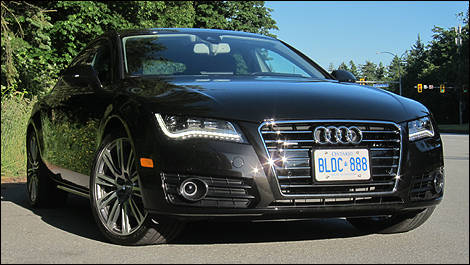 The A7 is a sweet performer that's adept at coddling one moment and inspiring the next. (Photo: Rob Rothwell/Auto123.com)
Technology and sophistication
Despite its large size, the A7 is built for four and no more. Those lucky enough to find a seat in Audi's latest ride will be generously rewarded. The cabin is spacious, even in the rear for the most part. It's also exceptionally well stocked with the latest in technology and sophistication.
Starting the car draws the Multi Media Interface (MMI) screen out from its internal slot. Audi continues to refine their MMI system, which I now find to be quite superior to other setups. It still takes time to become proficient in its usage, but the former multitude of steps, options and picks have been minimized and simplified over time.
For example, one can use a finger to scribble destination data into the nav system through Audi's unique touch pad. I preferred to rely upon the voice recognition program to enter destinations in a straightforward user-friendly manner.
With my destinations recognized, the navigation system provided audible directions, which were replicated visually in the A7's head's-up display. Other sophisticated installations in my tester included Night Vision Assist and Active Cruise Control.
Complementing the cabin's wealth of technology are beautiful design elements and an outstanding degree of flawless construction. Every item and function in the cabin conveys a feel of quality and a sense of purpose.
Those attributes also underwrite the vehicle's operational aspects as well.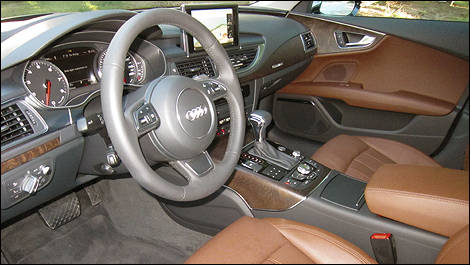 Every item and function in the cabin conveys a feel of quality and a sense of purpose. (Photo: Rob Rothwell/Auto123.com)