You're all set. You got the spouse and the kid loaded and ready to go. The family vehicle is a brand new, right-sized 2012 Volkswagen Tiguan. When you started off shopping for a new, more versatile car, you researched and inspected all the usual crossover suspects, namely the
Toyota RAV4
,
Honda CRV
, and Ford Escape. In the end, why the Tiguan?
Because you enjoy driving, first and foremost. There's nothing wrong with that. Too often, this critical element is ignored for other considerations such as fuel economy. Because you've done your homework, you are well aware that the Tiguan features one of the best 4-cylinder engines around.
2.0T FTW!
Volkswagen's 200-hp 2.0T engine is a no-compromise powerplant. It will consume as little as 7.5L/100km on the highway, while providing impressive power on demand. This is not a typo. The engine is ripe for action and loves to move.
When equipped with Volkswagen's proven 4MOTION AWD system, the Tiguan is automatically delivered with a six-speed autobox.
You've no qualms about this as the Tiptronic mode allows you to shift manually and should you be so inclined, you can drop the lever into "S" and really take advantage of the engine's 207 lb-ft of torque. Throttle sharpens up and gears are held for maximum involved driving. You can and do have fun with the Tiguan.
A six-speed manual box is available with FWD models but you'll be far too busy keeping both hands on the steering wheel as this compact crossover sticks to pavement like nobody's business. You were impressed with the
Kia Sportage
when you were doing your dealer rounds for test-drives but you found its ride too jarring on city streets. Although the 2012 Volkswagen Tiguan is not the smoothest operator over uneven paved surfaces, its fully independent suspension has more give without sacrificing handling.
What every good German car does is hover confidently on the freeway. Your Tiguan is in its element cruising about at 120 km/h, although you never go beyond that; that is unless the kid and the significant other are safely at home. Frankly, you find the Tiguan's high-speed stability as astonishing as it is comforting.
Cosy quarters
On the topic of comfort, your Tiguan carries four adults, but no more. The front occupants are best served by cosy seats and extra legroom so your friends always call shotgun when you go to the club. Those relegated to the back are fine anyhow. The trunk is snug but a weekend's worth of gear fits only with a tad of creativity.
Design is another element that you considered highly important when you shopped for your new wheels. The 2012 Volkswagen Tiguan has a functional and funky dash layout that never gets boring. Among its competitors, you realize how well assembled and crafted the Volkswagen's accoutrements are and you enjoy tangible quality.
The major refreshed element of the 2012 Volkswagen Tiguan is its exterior shell. As you contemplated the vehicle in the showroom, you noted how the new front end makes a strong claim for the Tiguan; it really looks like the sportiest of the compact crossovers. You liked that but you also noticed that the inward-cutting lower bumper, designed as such for improved attack angle, gives the Tiguan a pointy nose or, in other words, the lack of a chin. No matter.
Your wallet
As you're a no-compromise, won't-cut-corners type of person, you wanted the most deluxe 2012 Volkswagen Tiguan you could get your hands on. You sprung for the Highline trim and even added the only two options on the list, namely the stunning 19-inch wheels and the Technology Package. You knew the CUV wasn't going to be cheap but at $42,575, you quite nearly considered a $48,875 Volkswagen Touareg. Given that you want the best and nothing less, only a Touareg TDI would have done but because it goes for a paltry $53,575, you decided to stick with the Tiguan. It is after-all, the right size.
You've noticed that, from the moment you picked up your shiny new Tiguan from the dealer, road trips have become far more common. With all the bells and whistles you could ever hope for including navigation, Bluetooth, satellite radio, leather seats, bi-xenon headlights and park distance control, you and your family have enjoyed spending time in the vehicle. You're also very happy about your fuel consumption, which averages out to roughly 9.5 L/100 km all-round.
The 2012 Volkswagen Tiguan is right in so many ways: styling, performance, size, environmental considerations and equipment. You figure that the price paid is what let you have it all.
Road Tests and Reviews

Consumers
2012 Volkswagen Tiguan Highline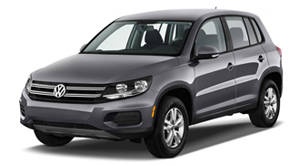 2012 Volkswagen Tiguan Highline