"Being powerful is like being a lady: If you have to tell people you are, you aren't." – M. Thatcher.
Being a powerful vehicle is about more than hood scoops, flared wheel arches and a super-loud exhaust note; it's about more than straight-line times and downforce-inducing wings. Being a powerful vehicle is about composed speed, sophisticated handling, astonishing acceleration and a smoothness that'll leave you both breathless and impressed with the end result.
The
2013 Audi RS 5
may not look like anything special, unless you know what you're looking for, but it is. That's one of its most redeeming qualities; with plenty of ponies under the hood and Audi's renowned Quattro system underfoot.
What is the Audi RS 5?
Based on the A5, Audi's coupe appeared in '07 as an '08 -- the RS 5 is essentially a jacked-up version. While an
S5
existed from the beginning, it wasn't until 2010 that the RS 5 emerged, and not until 2013 that a cabriolet model was released, as well.
With a jump on horsepower and performance over the S5, the Audi RS 5 is the epitome of speed and performance in the A5.
2013 Audi RS 5 Price and Specs
If you're in the market for the RS 5 you're well aware that with power and performance comes a hefty price. Starting at $77,000 the 2013 Audi RS 5 is, actually, quite a lot of car for not that much money. It's the extras that really throw it into another realm, such as the $6,000 Carbon Ceramic Brakes and $1,500 Sport Exhaust, and $1,000 20" five-arm rotor wheels -- all of which were included in my $91,450 tester.
Underneath all the fancy extras sits a highly impressive vehicle that boasts Audi's 4.2L FSI V8 engine that pushes out 450 horsepower and 316 lb-ft of torque. Audi ensured the RS 5's stability with its RWD-biased Quattro AWD system. The RS-tuned and lowered suspension, as well as upgraded steering, help the 2013 Audi RS 5 really hunker down and get into it when needed.
The 2013 Audi RS 5 reaches 100 km/hr in just 4.7 seconds, and as you crest the 120 km/hr mark a subtle rear spoiler deploys to help you stay stable. You can self-shift the 7-speed S tronic autobox via steering-wheel mounted paddle shifters.
Driving the 2013 Audi RS 5
The 2013 Audi RS 5 can be as dapper and demure or as devilish and daring as you desire. Thanks to Audi's Drive Select that lets you swap between comfort, auto, dynamic and individual, you can change up the vehicle's engine response, adaptive suspension, dynamic steering, and transmission shift characteristics. There are noticeable differences between each.
Of course, I kept the car firmly planted in dynamic mode with "S" selected on the gear lever. That kept the 2013 Audi RS 5's revs delightfully high for maximum milking of power from the 4.2L V8, with delightfully loud and fart-y downshifts from the upgraded sport exhaust when I came to a stop. I did wish for a bit more torque, but the RS 5 reaches speed in a gloriously smooth way.
Cornering in the 2013 Audi RS 5 is fabulous. You can feel the rear squat and push into the turn; like a lion settling onto its haunches before launching towards its prey, the RS 5 is planted and ready to kill any road you throw its way.
In comfort mode the drive is much quieter with shorter gears and no downshifts (unless you do them yourself). I wished for "softer" suspension damping as it can be quite rough on less-than-stellar roads.
Inside and Out of the 2013 Audi RS 5
That grille! Audi's designers took an understated approach to the aggressiveness of the RS 5. No need for super-flared wheel arches or a big wing; gentle sloping lines, massive 20" rims and a lowered, squat stance is all this car needs to make a statement.
Audi's signature LED headlights are present, and the rear is delightfully simple as well, with large exhaust tips on each corner.
Inside, the 2013 Audi RS 5 is surprisingly roomy up front and even in the back. My son's larger Britax baby seat was an easy fit, and he actually had legroom (unlike in the
XKR
). Trunk space is passable.
Of note: The seats in the Audi RS 5 are comfortable, but they do not breathe in the summer heat. Audi's MMI system takes a bit of getting used to, but is functional and logical. I was a bit disappointed with the optional Bang & Olufsen, as well. It sounds much better in the
Audi A8
.
Comparing the 2013 Audi RS 5
Directly in line with the RS 5 is
BMW's M3 Coupe
and even the
Mustang Shelby GT500
, both of which offer up differences such as balls-out power or a bit more refinement when compared to the Audi. If it's understated "fast" you're looking for (with a bit more room in the rear), the Audi is the clear choice. Plus, it's the only one with all-wheel drive, which makes it the only plausible all-season performance car.
Road Tests and Reviews

Consumers
2013 Audi RS 5 4.2 FSI quattro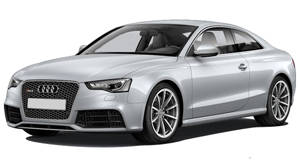 2013 Audi RS 5 4.2 FSI quattro