There are vehicles on the market that are people-movers, meaning they get you from point A to B. They do it well, but sometimes lack pizzazz or personality.
Then there are the people-moving cars that can transport up to seven bodies and have that extra zing that makes life on the road more enjoyable.
Enter the
2013 Dodge Journey R/T Rallye AWD
. It's got a long name, yet is packed with meaning and a few bits of personality, too.
What is the Dodge Journey R/T Rallye AWD?
Dodge's Journey has been on the market since early 2008 and has been showered with praise and awards since. Heralded for its affordability, along with its ability to seat seven, the Journey isn't a minivan -- which to some automatically works in its favour. Furthermore, the access to 1,047 litres of storage space with the third and second row seats down, and 303 litres with both rows up, makes it attractive to those who have families or people, pets or anything in between to shuttle around.
2013 Dodge Journey RT Rallye Price and Specs
With 283 horsepower and 265 lb-ft of torque generated from the 2013 Dodge Journey's 3.6L V6 engine you can get up to speed with little issue. Whether travelling alone or with a full cabin, there's bite behind the V6's growl.
While you might not put it to good use all the time, the R/T Rallye comes with an all-wheel drive system. Front-wheel drive is available as well, in case that satisfies the needs of your daily driving.
$32,795 is the base MSRP for this eye-catching model. With all the extras, including destination charges, you're looking at $38,890.
Driving the 2013 Journey R/T Rallye AWD
The first time the Journey and I met, I wasn't fully impressed. I felt it was big, bulky, and underwhelming. Plus, the materials used for fit and finish were subpar. That was a few years ago.
My following, and most recent rendez-vous with Dodge's crossover, proved to be much more favourable. While it's still not a small vehicle, the 2013 Dodge Journey didn't feel overtly hefty. The materials used inside were considerably better -- not to mention the design is more pleasing to the eye.
Getting back to the 2013 Dodge Journey's size, its firm-feel power steering made it amenable to get around town. Though I found the "firm feel" to be a little deceptive. I would have preferred more stiffness. However, that didn't mean it couldn't get the job done -- because it did, and did it well.
Add in a high-performance suspension, and a previously sleepy vehicle to drive came to life.
Inside and Out of the 2013 Dodge Journey R/T Rallye AWD
Ad the letters/words "R/T" and "Rallye" to any Dodge product and you know you won't get the short end of the stick. A Brilliant Red Tri-Coat Pearl paint job (an additional $300) drapes the crossover's exterior and makes it pop against any backdrop. Then there's the 2013 Dodge Journey's mesh grille up front, 19" machined cast-aluminum, 10-spoke satin silver wheels on the side and a rotund rear end to round out the exterior.
Inside, black leather seats complemented by red stitching welcome occupents.
From the driver's seat, an 8.4" touchscreen acts as command central on the centre stack. Here I could access the Garmin Navigation System along with a CD/DVD/MP3 player, and saw what was going on behind me when in reverse thanks to a ParkView rear back-up camera. These features came as part of the Navigation and Sound Group I ($825), which is well worth it. Even for the camera alone, because rearward visibility is obstructed by a shallow windshield on the 2013 Dodge Journey R/T Rallye. Who wants a feature that makes everyday driving easier?! Raise your hand. I do. I do.
When it came to accessing the third-row seats, I had to pull out the elbow-grease for that one. The second row moved forwards with little issue, it was pushing it back that gave me a good workout -- on both arms.
Comparing the 2013 Dodge Journey R/T Rallye AWD
Other vehicles that fall into the category of competitors with the Dodge Journey R/T Rallye are the
Hyundai Santa Fe XL
,
Kia Sorento
,
Ford Edge
/
Explorer
, and
Chevrolet Equinox
.
Road Tests and Reviews

Consumers
2013 Dodge Journey R/T RALLYE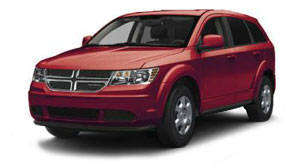 2013 Dodge Journey R/T RALLYE