The latest hot item from Korea pleasantly surprised me. While my personal lifestyle doesn't warrant driving such a vehicle, I really liked its road manners and versatility.
If you need space, the
2013 Hyundai Santa Fe XL
is definitely worth a look. However, with 6 other people on board, you should know that cargo capacity is quite small.
What's a Hyundai Santa Fe XL?
As the name implies, this beautiful crossover rides on an extended version of the
Santa Fe Sport
's platform. You can easily distinguish the two by looking at the stretched rear side windows. The 2013 Hyundai Santa Fe XL is also larger inside, with 240 litres of additional room, and even more versatile, courtesy of a 40/20/40-split sliding 2nd row bench seat and a 50/50-split 3rd row bench seat.
I tested a Santa Fe XL Premium, which is the least expensive AWD model you can find in the lineup. Equipment is obviously not on par with the more upscale Luxury and Limited models, but still offers plenty of value.
Price and specifications of the 2013 Hyundai Santa Fe XL
The 2013 Hyundai Santa Fe XL uses a 3.3L V6 engine that produces 290 horsepower and 252 lb-ft of torque. While fuel consumption is announced at 10L/100km (city-highway combined), I recorded an average of 11L/100km during my test week.
Total cargo volume amounts to 2,265 litres behind the 1st row. When all seats are occupied, however, you wind up with just 383 litres (not counting the 51 litres of storage under the cargo floor), which is about 100 litres fewer than the
Mazda CX-9
.
The 2013 Hyundai Santa Fe XL starts at $29,999 in base FWD trim. Next up is the AWD-equipped Premium model at $34,999. For the ultimate in luxury, you must turn to the Limited with Saddle Leather, priced at $43,199.
Driving the 2013 Hyundai Santa Fe XL
We live in such a technology-driven world that I was almost expecting the sophisticated 2013 Hyundai Santa Fe XL to include many advanced gadgets like a backup camera, blind spot monitoring, adaptive cruise control, and lane departure warning. As it turned out, there wasn't any of that stuff. Will buyers really miss them? I don't think so.
On the other hand, most will enjoy the 2013 Hyundai Santa Fe XL's backup sensors, satellite radio, heated steering wheel (surprising for the price), and heated 1st and 2nd row seats as much as I did. The driver-selectable steering offers 3 operating modes (Comfort, Normal, and Sport), but you could definitely live without them -- and the extra control on the steering wheel.
Bluetooth is a must, though. Unfortunately, in the 2013 Hyundai Santa Fe XL, synchronizing my phone and using the system proved quite laborious. My thousand or so contacts inexplicably appeared in random order on the screen, and the voice recognition unit seemed to have a hearing problem, no matter how flawless my pronunciation was. Even worse: When I did manage to call somebody, I was constantly asked to repeat or speak louder -- saying that the microphone could be improved is an understatement. As you can imagine, these distractions significantly affected my focus and enjoyment behind the wheel.
Having said that, the 2013 Hyundai Santa Fe XL's driving dynamics were surprisingly sporty for such a large crossover. The steering was sharp, and the suspension struck a good balance between ride and handling.
Come to think of it, I have one more gripe to tell you about. While rearward visibility isn't so bad (the backup sensors also do a nice job in most circumstances), the side mirrors are just too huge! I don't recall ever having to work with such massive and ill-positioned mirrors in my life. They had a frustrating habit of blocking my lateral view.
Inside and Out of the 2013 Hyundai Santa Fe XL
Despite its substantial girth, the 2013 Hyundai Santa Fe XL displays all the right curves in all the right places. Distinctive styling cues include aggressive-looking headlights and fog lights, LED daytime running lights, and a 4-blade chrome grille. All combine to give the vehicle a decidedly modern appeal. Furthermore, I loved the power liftgate.
It's the same theme inside, where you'll find some pretty refined materials for the price. I particularly liked the simple, friendly layout. There are many clever storage solutions throughout. The manual sunshades integrated to the rear side windows and the easy-to-use rear bench seats were awesome.
Comparing the 2013 Hyundai Santa Fe XL
If you insist on staying away from minivans, the 2013 Hyundai Santa Fe XL represents an enticing alternative, with sporty driving dynamics that will win you over. Just don't expect the same cargo capacity or the level of convenience that sliding doors provide.
In addition to the aforementioned CX-9, competitors include the
Chevrolet Traverse
,
GMC Acadia
,
Honda Pilot
and
Toyota Highlander
-- all of which can haul up to 7 people. The 2013 Hyundai Santa Fe XL stands out with superior value and a 5-year/100,000km comprehensive warranty.
Road Tests and Reviews

Consumers
2013 Hyundai Santa Fe XL Premium AWD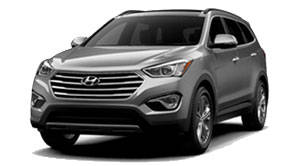 2013 Hyundai Santa Fe XL Premium AWD