A few months back, we witnessed the launch of the all-new
Santa Fe Sport
which was basically the replacement for the outgoing Santa Fe. So, what's this new
XL
all about?
Well, Hyundai has enjoyed tremendous success with its Santa Fe since the model first debuted back in 2001. In fact, in a recent study, the Santa Fe ranked No. 1 in nameplate awareness within the midsize segment, and it boasts the highest conquest sales amongst its competitors. However, more and more buyers are now seeking 7-passenger SUVs and the company is looking to cash in on the trend.
Of course, that was the idea behind the now-discontinued Veracruz, except the vehicle didn't quite live up to the company's expectations and sales were rather sluggish. So now, Hyundai decided to play it safe and stick with the tried-and-true Santa Fe nameplate. Put simply, the XL is a long-wheelbase version of the new Sport and yet, it's actually much more than that!
Pushing its weight aroundAimed squarely at the intermediate SUV buyer, the new XL appears as striking in appearance as the new Sport. In fact, I'd deem it slightly better as the design carries the additional length (215mm) with ease and almost makes the Sport model appear short and stubby when parked alongside.
Powered by a 3.3L GDI V6 producing 290hp and 252 lbs-ft of torque, linked to a 6-speed automatic transmission with SHIFTRONIC® manual mode, the 2013 Hyundai Santa Fe XL is a sprightly vehicle which almost questions the validity of the shorter model being badged "Sport."
Overall weight plays a large role in this, as does power-to-weight ratios, as the XL is the lightest vehicle amongst its competitors (267 kg less than the Ford Explorer, and 105 kg lighter than its closest competitor, the Toyota Highlander). Of course, some might say that the larger Explorer is bound to weigh more as it's often purchased as a tow vehicle. Indeed it is, however, whereas the Explorer needs to be optioned to tow 5,000 lbs, the new 2013 Hyundai Santa Fe XL comes standard with a 5,000 lb tow rating so this is no lightweight when it comes to capabilities!
Long list of amenities
What's also quite surprising is just how well-appointed the new XL is. Standard equipment includes heated front seats, power windows, driver's seat power lumbar support, a six-speaker audio system, Bluetooth®, a tilt and telescoping steering wheel with audio controls, cruise control, plus more. Step up in trim and features such as a leather-wrapped heated steering wheel, heated rear seats, leather seating surfaces, power liftgate, and a panoramic sunroof become available.
Of course, buyers can source these luxury features on many other SUVs but, until now, could this be done at Hyundai pricing? The base 2013 Hyundai Santa Fe XL starts at just $29,999 (for the FWD which is only available on the base model here in Canada). The premium model takes this up to $34,999; the Luxury comes in at $39,199; and the top-of-the-line Limited tops out the range at $42,899. With pricing like this, the company is expecting volume sales, and I would agree with them. In fact, I wouldn't be surprised to see demand outstrip supply which has been the case in the past with Hyundai products.
As the saying goes: Safety comes as standard, and all XL models boast an array of safety features including seven airbags inclusive of a driver's knee airbag. All models (expect the 2WD Base) feature the company's advanced All-Wheel Drive (AWD) system with Active Cornering Control (ACC), and a Driver Selectable Steering Mode (DSSM) system.
Now for those of you who have read my previous report on the new
Santa Fe Sport
, you will know that I was rather displeased with the aforementioned DSSM system. Now, whether the designers read my review and took note (I very much doubt it!), or they simply came to the realization themselves that there was indeed a problem, this issue has now been addressed. I'm therefore pleased to announce that the settings have now been altered/improved so that the Normal mode feels like the previous Sport mode, and Sport mode is now where it should have been in the first place.
Even more bang for your buck
All in all, I very much like the new 2013 Hyundai Santa Fe XL. The option of a 7-passenger or 6 if you go for the 2nd row captain's chair option (my choice), the Santa Fe is sure to be a hit. It ticks all the right boxes and offers true value-for-money, which is hardly surprising as that's precisely what the Hyundai brand has always delivered.
Road Tests and Reviews

Consumers
2013 Hyundai Santa Fe XL Limited AWD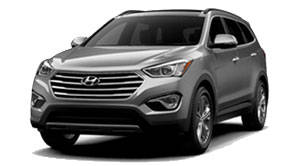 2013 Hyundai Santa Fe XL Limited AWD