This week I got to test drive a
2013 Nissan Altima 3.5 SL
and, while it impressed me with its comfort and interior room, the driving dynamics left me wanting a bit more.
It must be said that this Japanese family hauler is sticking with Nissan's much-lauded V6 engine at a time when most competitors turn to 4-cylinders only. Believe me, there's still a niche for V6-powered sedans, and this Altima can certainly attract drivers who are more interested in pleasant acceleration than high fuel economy.
What is a Nissan Altima?
The new 2013 Nissan Altima is built on the same platform as its predecessor. Slightly longer and wider, it looks squatter, yet features a raised trunk. Overall, it's a nice evolution from the 2012 model.
The 3.5 SL trim level tops the line with premium amenities such as leather upholstery and a large infotainment display. The Altima claims to be one of the sportiest sedans in its class and, as such, you'll find a Drive Sport (Ds) mode and paddle shifters for more spirited times behind the wheel. However, comfort always seems to take over.
2013 Nissan Altima Price and Specs
Base models come with a 2.5L 4-cylinder engine that produces 182 horsepower. Others, like the 2013 Nissan Altima 3.5 SL, inherit the proven 3.5L V6 that generates 270 horsepower. The lone transmission choice across the lineup is the infamous Xtronic CVT, mainly for efficiency purposes. I'm definitely not a fan of these boxes, but here it kind of grew on me. Well done, Nissan.
Pricing for the 2013 Nissan Altima starts at $23,698 in base 2.5 trim, while the more powerful 3.5 models retail from $29,698. The technology-laden 3.5 SL can be yours for $32,598.
Official fuel consumption ratings are 7.4/5.0L/100km (city/highway) with the 4-cylinder engine, and 9.3/6.4L/100km with the V6. I personally recorded an average of 10.3L/100km.
Driving the 2013 Nissan Altima
One word sums up my experience with the 2013 Nissan Altima: smooth. This car is so easy to drive -- maybe not exciting, but certainly not boring, either -- and naturally prefers to cruise around town than blast through a track.
The range-topping Altima 3.5 SL features satellite radio, an intelligent key, a heated steering wheel, and a backup camera. However, there are not as many safety systems as in the 2014 Mazda6, for instance. Navigation, Blind Spot Warning, Moving Object Detection, and Lane Departure Warning can be had as part of the Technology Package ($1,100).
Nissan engineers incorporated a user-friendly Human-Machine Interface (HMI) with a bunch of physical buttons and few on-screen menus. From a driver's standpoint, I liked it. On the other hand, the raised trunk impedes rearward visibility, making the backup camera a near-must. And given the premium nature of the 2013 Nissan Altima 3.5 SL, I expected a much quieter cabin.
Inside and Out of the 2013 Nissan Altima
At first glance, it becomes clear that Nissan didn't want to be overshadowed by the latest hot products in the midsize segment. Modern and business-like, the overall design of the 2013 Altima has been well thought out. Family ties with the Infiniti cousins are flagrant. The tapered headlights and various chrome bits, particularly around the front grille, add to its refined looks.
Inside, well, let's just say I've seen livelier, more dynamic layouts. Material selection, fit and finish in the 2013 Nissan Altima 3.5 SL remain beyond reproach, however. Using a classic theme, designers threw in a couple of modern cues like the 3D-style Fine Vision instrument cluster and Nissan Advanced Drive Assist Display with outside temperature display, low fuel warning, audio display, and more. There are numerous handy storage compartments throughout the interior, too.
Comparing the 2013 Nissan Altima
Midsize sedan buyers have a very wide selection of models to choose from:
Chevrolet Malibu
,
Chrysler 200
,
Dodge Avenger
,
Ford Fusion
,
Honda Accord
,
Hyundai Sonata
,
Kia Optima
,
Mazda6
,
Subaru Legacy
,
Toyota Camry
,
Volkswagen Passat
, and more. Like I said earlier, most of them only offer 4-cylinder engines. If you insist on a V6, consider the 200, Camry, and Accord. For safety-minded drivers, the new Mazda6 is hard to beat.
One thing's for sure: The 2013 Nissan Altima boasts superb build quality at a competitive price.
Road Tests and Reviews

Consumers
2013 Nissan Altima 3.5 SL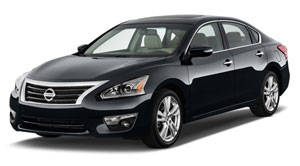 2013 Nissan Altima 3.5 SL