When I was tasked to find the ideal road trip vehicle for our 8-hour journey to the annual Automotive Journalists Association of Canada test fest week, my first thoughts were comfort and fuel savings. We also needed a bit of space for multiple passengers and their weeks' worth of luggage. So, my options were limited. Then it hit me.
The 2014 Audi Q7 TDI. Comfort? Check. Fuel efficient? Yessir. Plenty of space? Sold. The call was put in to Audi and we were promised a vehicle for our long journey. I couldn't wait.
After the 16-hour-plus drive there and home, plus an entire week "living" with the vehicle, I must say the Q7 impressed in more than a few areas. Despite that, the fact remains that the Q7 is quintessentially German, and that makes it a viable candidate for anyone in the market for an upscale diesel SUV.
What is an Audi Q7?
The Audi Q7 is a full-size luxury SUV that offers comfort and room to those in serious need of both. Able to hold seven passengers, and available in both gas and diesel variants, the Audi Q7 is one of the more versatile luxury SUVs on the market. The beauty of the Audi Q7 is that it can be as sporty and fun to drive as it can be practical.
2014 Audi Q7 TDI Price and Specs
The 2014 Audi Q7 TDI is equipped with a 3.0L turbocharged diesel V6 engine coupled to an 8-speed Tiptronic automatic transmission and Quattro AWD. With 240 horsepower and 406lb-ft of torque, the Q7 TDI stands out as the clear winner in my mind. Nothing says power like the pull of diesel torque.
So, what do you have to dish out for all that torque? Thankfully, not that much more over the base price (which is $58,200) since the TDI version starts at $63,200. Considering the
Porsche Cayenne Diesel
, which doesn't offer a third row amongst other amenities the Audi does, starts at $65,500 the Q7 TDI is a veritable bargain.
Driving the 2014 Audi Q7 TDI
Drive we did, for well over 1,750 kilometres over the course of a week. Not once did the 2014 Audi Q7 seem uneasy or unsettled. Rain, shine, back roads through New York State or open, boring highways; the Q7 handled them all with poise.
The torque exhibited by the 2014 Audi Q7 TDI is, perhaps, the most enjoyable part about driving this vehicle. Never are you left wondering you can make that merge or pass that vehicle. Despite the Audi Q7's 2,455kg weight, it drives like a much lighter vehicle, virtually floating across all surfaces (in a good, pleasant, comfortable way).
Steering is well judged and what you'd expect from a smaller vehicle. It feels almost sporty in nature, and that makes the driving experience in the Audi Q7 TDI that much more enjoyable.
Now, those fuel consumption numbers. After a week behind the wheel and mostly highway driving, we managed to see the mileage rating hover in the 11L/100km range. That's immensely impressive for a vehicle of its size and with AWD. Also of note, over the course of those approximate 1,750kms we stopped for gas twice, and not because the gas light was on.
Inside and Out of the 2014 Audi Q7 TDI
There's something very matter-of-fact about the 2014 Audi Q7 TDI that I quite like. Like a body builder wearing a pinstripe business suit, the Audi Q7's broad shoulders are draped in class. Signature LED daytime running lights add a devilish look to the SUV's mug, and the large gaping gills in the front bumper bring to mind the
R8
.
Subtle shoulder lines ensure you're aware of the Audi Q7's sportier side. Audi's design language truly carries across all its models, and I think that's fantastic.
Inside the sophistication and class continues. The driver's seat is a pleasant enough place to be with everything well within reach. I've said it before and I'll say it again: I adore the simplicity of Audi and VW gauge clusters. From the white on black numbers to the super-simple middle screen; they have a job to do and they do it without distraction.
Space abounds in the back of the 2014 Audi Q7 for passengers and luggage of all kinds. The load height of the trunk is high and the bumper a bit wide (I found myself dirtying my pants each time I needed to reach for something).
Comparing the 2014 Audi Q7 TDI
As far as diesel SUVs go, there aren't that many to choose from. Porsche's Cayenne is most definitely a serious contender, but is lacking that third row.
BMW's X5 xDrive35d
is also a viable competitor in terms of pricing and performance. So, the Germans hold the diesel SUV market, the question is, which will you choose? You can't really go wrong.
Road Tests and Reviews

Consumers
2014 Audi Q7 3.0 TDI quattro Progressiv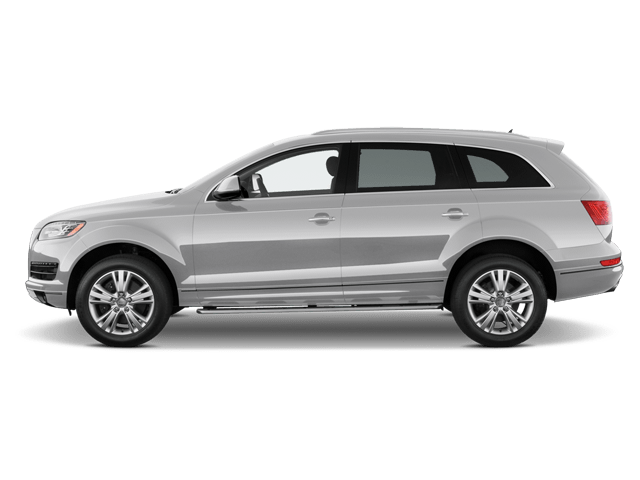 2014 Audi Q7 3.0 TDI quattro Progressiv