I've been privileged enough to drive some of Audi's finest machines recently: the R8, RS 5, and now the RS 7 -- #firstworldproblems, I know. In each I found a sort of understated sophistication mixed with a refined rebelliousness that was just bursting to be unleashed. Add an "R" to the Audi name and watch out, you're in for quite the ride.
The 2014 Audi RS 7 is no exception, and while nothing can truly top the
R8
, this grand coupe (or sportback as its known in Europe) was almost equally jaw-dropping in terms of overall performance and design.
What is an Audi RS 7?
Based on the four-door coupe/hatchback A7, the RS 7 is its much sportier brother – much sportier. This particular model is rather new for Audi, as it only hit North American showroom floors in 2011.
The Audi A7, S7 (because there's one of these also) and by association the RS 7, offers the sportiness of a coupe with the convenience, size and practicality of a four-door sedan. Packed with power and prestige, the Audi RS 7 is the German automakers answers to competition like the Merc CLS-Class and BMW 6 Series Gran Coupe.
2014 Audi RS 7 Price and Specs
The Audi RS 7 is a grand coupe, which means it comes with grand specs and a grand price to go with it. Starting at $115,000, the 2014 Audi RS 7 isn't for the faint of wallet, especially when you start adding options like the Bang & Olufsen sound system (a must), and the comfort seating package that offers up 22-way adjustable perforated Valcona leather seats. My particular tester tipped the scale in the $140k region with sexy pin-stripping on the dash and centre stack, the full gamut of safety tech features and the B&O entertainment package.
Now, about those other grand numbers: The 2014 Audi RS 7 packs the German juggernaut's 4.0L TFSI turbocharged V8 that pushes out 560 horses and 516 lb-ft of torque. A 7-speed Tiptronic automatic transmission keeps the RS 7's power in check, as does Audi's Quattro all-wheel drive and rear sport differential. The 2014 Audi RS 7 will see 100 km/hr from a standstill in 3.9 seconds and can hit a top speed of 280 km/hr.
Like I said: Grand.
Driving the 2014 Audi RS 7
Despite my endless requests to Mother Nature to simply offer up a small smattering of snow on which I could "play" with the Audi, she decided to really let me have it with one of our worst storms of the season. Thankfully, the 2014 Audi RS 7 loved every single moment of it.
Let's first start with the exhaust bark upon star-up. Deep, guttural and soul stirring, it made me tremble with anticipation while grinning from ear to ear. Once "D" is selected, the 2014 Audi RS 7 is as willing to let loose, as it is to reel things in and keep you on the straight and narrow. Despite it's rather long length and weight (1,995 kg), this vehicle handles very much like a sporty little two-door coupe -- even in whiteout, snowy conditions.
Sturdy in its placement on the road (even on slippery conditions), the 2014 Audi RS 7 is capable and confident, aiding the driver in focusing on the task at hand while it takes care of all the other bits and pieces when the weather turns nasty.
Some cars just feel "right" almost immediately. The 2014 Audi RS 7 is one of those cars. From the moment I slipped in behind the wheel, it felt right. After a near 6-hour, near 600km drive in a blizzard on snow-covered highways and the Audi RS 7 still felt right, very right in fact.
Steering is spot on, tight and on-centre feel is near perfect. And the vehicle's size means absolutely nothing when you do want to get it sideways for some fun in fresh snow.
Unplowed streets? Not an issue. Quattro is a joy in the winter and behaved perfectly, no matter what I threw under the Audi's wheels.
Inside and Out of the 2014 Audi RS 7
The 2014 Audi RS 7 makes a statement no matter where it journeys. The wide, gaping grille flanked by equally wide air intakes creates a dramatic and intimidating front fascia full of attitude and purpose. Round back, that purpose and attitude is lost on me, and I rather dislike the upside-down squid face that immediately appears when the brake lights are engaged.
Inside, the 2014 Audi RS 7 is pure and utter class. Pin-stripped on the dash? Check. Perforated leather seats? Check and check. Sophistication to the nth degree? So much check. There is nothing wrong with this cabin, not a thing.
Comparing the 2014 Audi RS 7
Compare the Audi RS 7 is just what we set out to do in our
Grand Coupe Comparison drive
. We measured it up against the likes of the
BMW M6 Gran Coupe
, Porsche Panamera Turbo and Mercedes-Benz CLS AMG -- all worthy German opponents for four-ringed winter warrior.
Road Tests and Reviews

Consumers
2014 Audi RS 7 4.0 quattro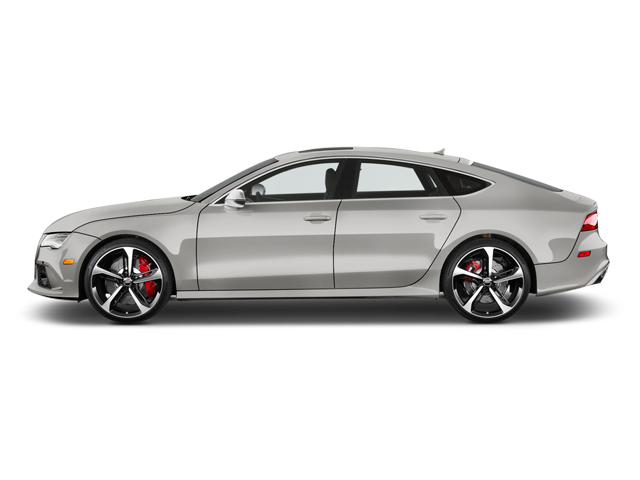 2014 Audi RS 7 4.0 quattro