For a brand that excels and prides itself on its performance cars, it was interesting to hear Audi open up its press conference on the highly anticipated RS 7 with a question regarding the pertinence of high-performance cars.
The answer was obvious: They still hold a very real and tangible place in the brand's lineup. Meanwhile, Audi is launching compelling "green" cars such as the
A3 e-tron
and
g-tron
, essentially products at the other end of the spectrum.
As with every effort put forth by Audi in recent years, the
2014 RS 7
is a giant among large, high-performance cars. It's an exceptional piece of kit that brings together all of the most important aspects such a car needs: speed, styling, technology -- all of it surrounded by a stunning shell that will leave everyone in its wake wanting, dreaming…
What is an Audi RS 7?
The 2014 Audi RS 7 is the ultimate version of Audi's large 4-door "coupe," the
A7
. As a hatchback, it can serve as a family car thanks to a decent cabin and spacious trunk.
The RS 7 also brings to the table supercar-matching performance and exclusivity. With roughly 100 units expected to arrive in Canada in late October, early November, the owner of an RS 7 will always stand out and be the envy of neighbours.
2014 Audi RS 7 Price and Specs
Powering the 2014 Audi RS 7 is a 4.0L twin-turbocharged TFSI V8 developing 560 nearly lag-free horsepower and 516 lb-ft of torque. This engine is endowed with Cylinder on Demand, which can shut off half the cylinders under normal load, reducing fuel consumption to a combined rating of 9.8L/100km.
An 8-speed Tiptronic automatic transmission distributes torque 40/60 between the front and rear axles of the quattro AWD system in normal driving conditions. Torque vectoring, or dynamic real-time torque distribution to the wheels that have grip, is standard.
The 2014 Audi RS 7 uses electromechanical power steering that varies assist and feedback. As a unique feature, the RS 7 receives wave-design disc brakes that save 3kg. Optional ceramic brakes save an extra 10 kg.
Weight saving is an important aspect of the new 2014 Audi RS 7. Its body is made of 20% aluminum, and the exhaust system, centre differential, and air conditioning components have all gone on a serious diet.
Pricing hasn't been announced yet, but expect it to start in the $120,000 range.
Driving the Audi RS 7
The 2014 Audi RS 7 is fast; it knocks the wind out of you every time the throttle is feathered. A more voracious appetite for tarmac I've not seen since the 662 hp Ford Mustang GT500. The 550 hp Audi R8 5.2 Plus I drove the day prior was not as maniacally motivated to pound pavement.
My guilty pleasure was part-throttle acceleration only to then mash the gas and feel the rush go from monstrous to epic, Godzilla-thrashing-Tokyo-like. The exhaust note was truly intoxicating as well.
To get to this point, I set Audi's Drive Select in Dynamic mode for all settings except suspension, which was left in Comfort. Furthermore, I put the transmission in manual mode and used the paddle shifters. The short and tight first few gears come up fast and furious; shifting early is not an option if the limiter is to be avoided.
Once mastered, the 2014 Audi RS 7 will launch to 100 km/h in 3.9 seconds and hit a potential top speed of 305 km/h. My driving partner and I hit 260 km/h on a stretch of the Autobahn, and there was much pedal travel left…
The superb brakes are stupendously powerful and never faded or complained through a number of switchbacks. Steering is rightfully heavy and dynamically precise -- a comforting feeling especially at very high speeds.
Although lithe on its toes for the size, the 2014 Audi RS 7 is no featherweight. In said switchbacks, weight transfers were brilliantly controlled. In fact, the amount of lateral grip, ameliorated by torque vectoring, impressed my partner and I and encouraged us to push harder.
The first car tested was equipped with the standard RS adaptive air suspension. Although it made for a cushier ride all around, the RS Sport Suspension with Dynamic Ride Control on the second car truly amazed us with its mastery of pitch and roll. I believe that this setup will prove too harsh on Canadian roads, though.
Inside and Out of the Audi RS 7
The A7 is a spectacular piece of design and so, if you add fabulous 20" or 21" wheels, and massively deep and forceful bumpers to the mix, what do you get? A sick-ass, insanely good-looking car with a silhouette to die for. With colours like Sepang Blue, Suzuka Grey, and Daytona Grey, negative comments need not apply.
About the 2014 Audi RS 7's cabin, there is little to say other than it hits every marker from a design standpoint. Depending on options, sensual "Hugo Boss" class wood or meshing can be selected to go along with the incredibly stitched and supportive seats.
Comparing the Audi RS 7
The 2014 Audi RS 7 faces very interesting competition from the
Mercedes-Benz CLS 63 AMG
,
Porsche Panamera Turbo S
, and BMW M6 Gran Coupé.
I could not pick one, as they are all incredible cars for all the right reasons.
Road Tests and Reviews

Consumers
2014 Audi RS 7 4.0 quattro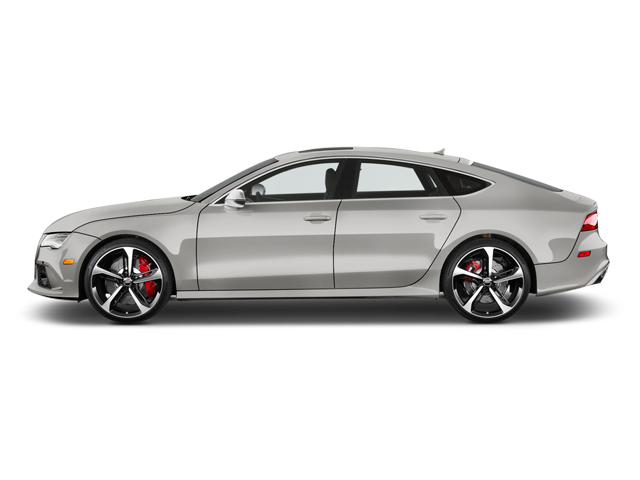 2014 Audi RS 7 4.0 quattro