Certain cars give off auras from the workman to the diva, there's a car that'll match it perfectly. When one thinks "executive" there are few cars that fit that description better than the Mercedes-Benz E-Class.
Regal and elegant, the 2014 Mercedes-Benz E 550 4MATIC isn't just a beauty to behold, it's also a blast to drive, and comfortable no matter which seat you choose. Roomy, loaded to the gills with techy kit and powerful, Mercedes has a winner in the E 550.
What is the Mercedes-Benz E 550?
For starters, the E-Class is Merc's line of "executive" vehicles, hence the businesslike approach to its design and drive. The very first of the current line of midsize Mercedes-Benz E-Class cars made its way to North America in the early 90s, while the vehicle itself was on the roads under a different nomenclature since the mid-80s.
Specifically, the Mercedes-Benz E 550 is the middle-of-the-pack E-Class in the lineup. Offering plenty of power and luxurious amenities, the E 550 may be considered the ideal combination of both a comfortable tourer and sporty ride.
2014 Mercedes-Benz E 550 4MATIC Price and Specs
As mentioned above, the Mercedes-Benz E 550 is the midrange E-Class sedan on offer from the German automaker. The baby (and cheapest) in the E stable is the E 250 BlueTEC starting at $57,800. However, we're not here to talk about any other model save for the 550, so let's focus on that particular sedan.
With a base price of $75,600, the 2014 Mercedes-Benz E 550 4MATIC is on the higher price side compared to its other German rival; however, it features a fabulous 32V Bi-turbo V8 good for 402 horsepower and 443 lb-ft of torque. Power is controlled via Merc's 7G-TRONIC PLUS automatic transmission. Zero to 100km/hr passes in just 4.8 seconds, and yet you've got a large back seat and sizable trunk, as well.
Driving the 2014 Mercedes-Benz E 550 4MATIC
I thoroughly enjoyed every minute behind the wheel of the 2014 Mercedes-Benz E 550 4MATIC. As refined as it was rough (when asked to be), the E 550 really is out to please. Like the best-trained Labrador in the pack, this puppy is programmed to please.
Gearshifts are nearly seamless thanks to the 7G-TRONIC PLUS transmission, and when toggled into "S" (sport), revs are held longer, downshifts are spot on, and it seems almost as if the E 550 is thinking two or three steps ahead of you. I love that, especially with an automatic transmission.
Handling in the 2014 Mercedes-Benz E 550 4MATIC is perfect, with great feedback from the steering wheel and a good deal of connection to the wheels. Merc's DIRECT CONROL suspension helps keep the ride both smooth and connected to the road. Cornering proves how stable the E 550 can really be, since this is a fairly large sedan, with limited body roll and a great deal of control -- even at speed.
My only gripe about driving the Merc E 550 was the bloody driver's seat. And I know it can be turned off and/or adjusted, but I'm not really sure why it's even there. It's an "interactive" seat where the bolstering squeezes you on either side, depending on which direction you're cornering in and how hard you're taking the corner. A "neat" feature at first, it becomes highly aggravating. A well-proportioned, tight-fitting bolstered seat is enough Mercedes. No need to go further, seriously.
Inside and Out of the 2014 Mercedes-Benz E 550 4MATIC
This is one seriously good looking car. It's masculine with a touch of feline prowess in the new headlights. Dual LED daytime running lights add a level of sophistication that's immediately present on the road to those around you. The new front bumper is also much more aggressive with large gaping gills under each headlight that may frighten smaller cars into thinking they'll be gobbled up. There really isn't a bad angle to view the 2014 Mercedes-Benz E 550 4MATIC sedan from.
Inside, the good continues. The middle console is designed in typical Mercedes-Benz fashion, and the centre-mounted knob near the handbrake remains, as does the column shifter to engage drive, park, reverse, etc. While that takes a little getting used to, it is undoubtedly a trait Mercedes wants to keep as their own and I commend them for using it across most of their line of products.
Despite my seat constantly trying to crush my poor kidneys upon each turn of the wheel, the 2014 Mercedes-Benz E 550 4MATIC sedan does offer up a very comfortable driver's position with very good visibility. And room in the back is plentiful, even with a baby seat installed.
Comparing the 2014 Mercedes-Benz E 550 4MATIC
The Merc's closest competition resides in its close German rivals, the
BMW 550i
and the
Audi A6 3.0T
. If you're in the market for a car of this nature, I think it really comes down to brand loyalty and personal choice, since each has so much good to offer you wouldn't be making a bad decision either way.
Road Tests and Reviews

Consumers
2014 Mercedes E-Class E550 4MATIC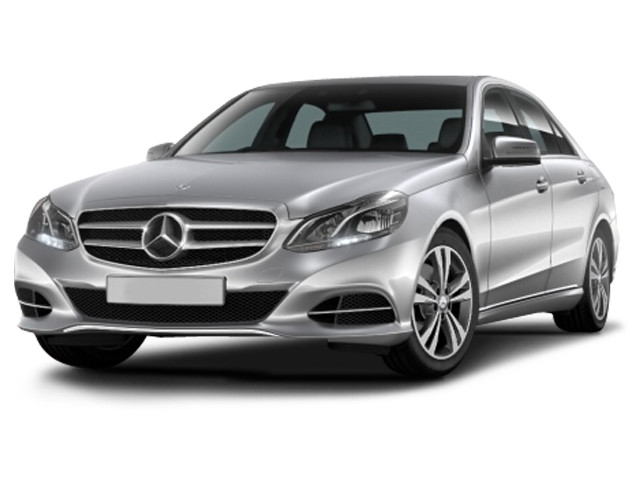 2014 Mercedes E-Class E550 4MATIC