Ram pickups stirred up some controversy a couple years ago when they replaced the traditional pickup truck's leaf-spring rear suspension with multilink coils. That setup has proved a winner for the brand formerly known as Dodge, and when they released the segment's first air suspension last year it garnered Ram multiple industry awards -- not to mention a 30% market share, up from 13% in 2009.
For 2014, Ram's done it again by producing the industry's first light-duty pickup with a diesel.
What is a 2014 Ram 1500?
Ram is Canada's longest running line of pickup trucks, established in 1917 with an estimated 79% of vehicles sold since 1987 still on the road today. Model designations refer to tow ratings, hence Ram 1500 (half-ton), 2500 (three-quarter ton) and 3500 (one ton).
While other companies have chosen to turbocharge their powerplants to achieve optimum fuel efficiency, Ram developed several technologies that lower consumption: reducing parasitic load on the engine, fuel-saving start/stop, improved aerodynamics (including active grill shuttering), and now the segment-exclusive EcoDiesel.
Although official fuel numbers for the diesel have yet to be released, the V6 Pentastar pickups are claiming a Best in Class fuel economy of up to 7.8L/100 km highway.
2014 Ram 1500 Price and Specs
The
2014 Ram
is claiming an awful lot of "Best in Class" titles, including the segment first 8-speed transmission, active grill shutters, EcoDiesel engine, Multi-link coil rear suspension, 7" Display screen, and cargo-box management system.
There are nine trim levels from base ST to the range-topping Laramie Limited. The three lowest trim levels are available in Regular Cab, Quad Cab and Crew Cab, while Outdoorsman, Big Horn, Sport, and Laramie are available in Quad and Crew Cab only. Top-spec Laramie Longhorn and Laramie Limited come only in Crew Cab.
There are three powertrains: 3.0L EcoDiesel with 240 hp/420 lb-ft with an 8-speed transmission, the 3.6L Pentastar V6 with 305 hp/269 lb-ft and an 8-speed automatic transmission, and 5.7L Hemi V8 with 395 hp/410 lb-ft mated to either a 6-speed or 8-speed transmission. Prices start at $26,995 for a Reg. Cab ST and will travel up to $57,595 for a Laramie Limited Crew Cab 4x4. Diesel is available, but adds about $4,500. There are many additional equipment options for the 2014 Ram: RamBox cargo management ($1,195), four-corner air suspension ($1,500), power sunroof ($1,295), trailer tow group ($350), just to name a few.
Driving the 2014 Ram 1500
Of course, the big news here is the available 3.0L EcoDiesel. Although we drove all configurations, the diesel is bound to be the one that generates the most buzz for the Ram 1500, being the only one in its segment. It's an idea that is long overdue, especially given the current price of fuel.
The 2014 Ram EcoDiesel is light-years beyond the oil-burners of my youth with their stench and clatter. Beautifully refined, smooth and powerful, it will banish any preconceived notions you may ever have held about diesel pickups. Chrysler has yet to release any official ratings on this engine, but claims it will better the consumption of its Pentastar V6.
Our drive was limited to about 20km of rolling Halton Hills country roads, but was enough to convince us that the 420 lb-ft of torque was enough power to have us wondering why anyone would opt for the Hemi. It's perfectly matched to the 8-speed transmission, which makes efficient use of the engine's abundant low-end torque.
Inside and Out of the 2014 Ram 1500
The Ram retains its rugged "big rig" appearance, updated with content and a signature grille to suit each trim level. There are now 12 paint choices, available in single or two-tone, depending on the model.
We drove a Hemi-powered Crew Cab Laramie 4x4, resplendent in cherry red with grey trim, and chrome brightwork; as wells as the EcoDiesel version in a Quad cab Sport.
Both interiors are roomy and comfortable, and if they don't boast the almost ludicrously rich hand-tooled embellishments of the Longhorn, they feature quality materials with tight-fitting panel gaps. There's plenty of legroom in both configurations, although the Crew Cab is extraordinarily accommodating. All 8-speed-transmission equipped vehicles feature a dash-mounted rotary shift knob.
The multimedia U-Connect interface features a huge 8.4" touchscreen, voice recognition, real-time fuel price display, Wi-Fi hot-spot recognition, satellite and navigation, and iPod and other media compatibility. There's a slick new 7" integrated gauge cluster with a different start-up theme for each trim level. Steering wheel controls allow the driver to display information in a variety of configurations, including: fuel economy, speed, trailer tow information, compass direction, and vehicle info.
Comparing the 2014 Ram 1500
Since the 2014 Ram is the only light-duty pickup to offer diesel (until Nissan's Titan, predicted to arrive next year), the competition just got tougher.
Ford's F-150 with the EcoBoost V6 has a towing capacity of 11,000lb to the Ram EcoDiesel's 9,200lb. Toyota's Tundra is rated at 10,000lb, but the soon-to-arrive 2014 Chevrolet Silverado trumps them all with 12,000lb.
There's stiff competition for ever-decreasing fuel economy too, with the
2014 Silverado
/
Sierra
boasting 13.0L/100km city and 8.7L highway from the 5.3L V8, better than
Ford's F-150
V8 by 1L and Ram's V8 by 1.5L. The Ram EcoDiesel's estimated 7.8L/100 km highway comes out the winner.
Road Tests and Reviews

Consumers
2014 Ram 1500 Laramie Limited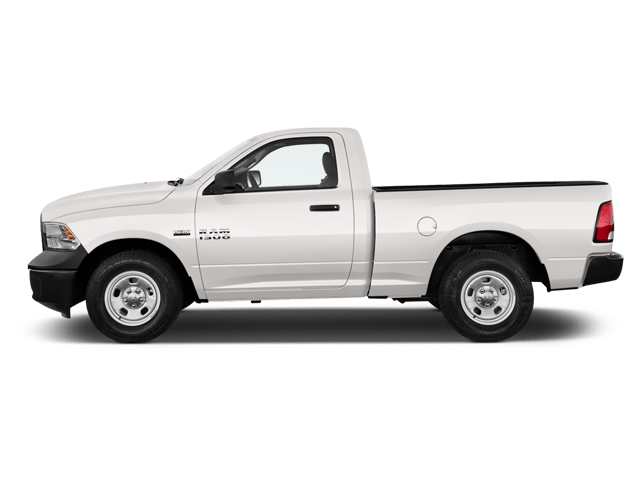 2014 Ram 1500 Laramie Limited