Lustre wears off, and shiny bits get dull. I know this because the polished lips on my 3-piece BBS RS wheels get dirty and I need to clean and polish them once in a while. On the other hand, however faded some things may get; they continue to shine for some reason.
The Toyota Yaris is one of these "things" that remains shiny despite the years piling on and the competition growing fierce. Toyota has polished it up recently, but little has changed regarding its nature.
The 2014 Toyota Yaris hatchback is a dated product, behind on current available technologies, and yet in its most basic form the car makes for a decent runabout so long as the more basic trims are selected to keep costs down.
What is a Toyota Yaris?
The Yaris hatchback sits on Toyota's lowest echelon and serves as the lure into its full-to-the-brim lineup that includes the ever-popular
Corolla
.
The Yaris was once known as the Echo, Tercel before it, both of which were extremely well liked with consumers seeking a simple and mostly reliable mode of transportation. The Yaris continues the lineage.
2014 Toyota Yaris Price and Specs
A three-door 2014 Toyota Yaris CE hatchback can be yours for $14,255. Moving up to a five-door CE, which makes loads of sense, will set you back $14,895. The top-line Yaris five-door SE goes for $20,255.
My tester was a five-door LE with an automatic transmission, and the convenience package, and retailed for $16,995.
All Yaris trims and body styles feature a 106-horsepower 1.5L 4-cylinder engine. Transmission choices reside between a 5-speed manual and a 4-speed automatic. As stated, the Yaris is a very basic car and thus it has a torsion beam rear suspension, and standard rear drum brakes. Steering is electrically assisted.
Driving the 2014 Toyota Yaris
The non-SE cars match their looks with their road manners and skill set. The 2014 Toyota Yaris is a point-A-to-point-B car. In this respect, it is excellent.
The 1.5L engine is surprisingly peppy and doesn't mind being pushed to 6,000 rpm. It responds appropriately to throttle inputs, be they harsh or soft. Although a little noisy, generally speaking, the mill is perfectly adapted to the Yaris.
Sadly, for all of its good, the 4-speed automatic dramatically affects the whole of the driving experience, from trying to have fun to saving on fuel. The lack of cogs affect acceleration, and in mild throttle demands, takes away smoothness of operation as engine revs drop significantly between gears. The daily commute is well served by the 'box.
My weeklong test drive returned a fuel consumption average of just over 7L/100km. This result is no better than some efficient compact cars in normal day-to-day driving. Some inevitable transmission revisions are in order.
The 2014 Toyota Yaris' ride is good, not sporty but because of the car's lightweight and compact dimensions, it can be entertaining. The car can be tossed around, but prefers the cosiness of an urban setting; its suspension is more than capable of soaking up broken pavement without loosening fillings.
Steering is light and responsive and the brakes function as expected. All in all, the Yaris is fine to drive so long as it isn't a hobby of yours.
Inside and Out of the 2014 Toyota Yaris
There are numerous hits and misses here as well. The car's outer shell says cute with a little bit of a frown up front. The five-door's proportions are by far better sorted out and, in the end access to the rear is tremendously eased.
The SE model, trimmed with Colour-keyed Full Skirt Package, Rear Spoiler, alloy wheels, and fog lights is somewhat laughable. For its price, a well equipped
Kia Rio5
or
Nissan Versa Note
are more appealing choices.
The cabin suffers a fate created by the materials, and a further lack of visual appeal. The many different portions of the dashboard butt into each other and the various surface textures clash and some even look cheaper than they should. Nods are given for presentation, which is simple and to the point.
On the up side, the passenger quarters are very roomy, airy even. The seats are decent to good all round and the trunk is quite useable. Though, I would have liked more storage spots up front.
Comparing the 2014 Toyota Yaris
On its own, the Yaris fares well enough, offering room, some fun behind the wheel, and reasonably economical motoring.
When matched with some of its competitors, the Yaris hurts a little. It may be better on gas than the Koreans, but it cannot match them for styling and content. The Nissan Versa Note is our favourite in the segment as it won our
Auto123.com Subcompact Car of the Year award
.
The Toyota name continues to carry the Yaris and that's fine. I'm also convinced that the next Yaris will pick up where Toyota leaves off.
Road Tests and Reviews

Consumers
2014 Toyota Yaris LE 5-door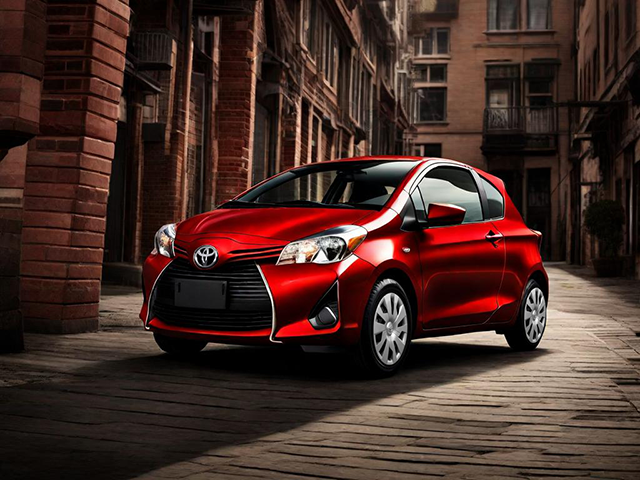 2014 Toyota Yaris LE 5-door