Sometimes we don't truly take note of something till its polished up; till it's made pretty; till it stands out a bit. Seeing someone you deal with daily (dressed in their dreary workday attire of ripped jeans and t-shirts) suddenly show up at a cocktail event in black-tie regalia -- well, that's something to take note of.
Let me make the connection here (it'll be about cars soon, I promise): It's not that the previous generation nee Infiniti G was unsightly or unattractive, just that the newest Infiniti Q is so damn sexy from nose to tail. It went from sporting kitten heels and knee-length skirts to 6" stilettos and form-fitting cocktail dresses. And I like it. I like it a lot.
The thing about the Infiniti, especially in "stripped" down mode with only AWD to lay claim to, it's really just the girl next door, the one you see in a wooly sweater at Starbucks holding her oversized mug of plain black coffee with both hands as she reads the NY Times poetry section.
That's what makes the Infiniti Q50 AWD so great. It looks like a million bucks, but is really just an everyday car you can easily live with, without a massive learning curve, and with all the luxurious amenities you'd hope to find in a premium marque.
Simplicity can be stunning
And please know that I don't mean this is a bare-bones vehicle with zero extras and nothing fancy, I just mean that it's simple in its execution, in its performance and is practicality.
The 2015 Infiniti Q50 3.7 AWD is equipped with a 3.7L V6 (as it's nameplate would suggest). That engine pushes out 330 horsepower, along with 270 lb-ft of torque. Power is sent to all four wheels via Infiniti's Intelligent All-Wheel Drive system that's actually quite efficient (but I'll touch on that in a moment). Power is handled via a 7-speed automatic transmission with Adaptive Shift Control with Downshift Rev Matching. My particular Q50 did not feature paddle shifters on the steering wheel.
The power is plenty sufficient for the Q50, and the AWD handles winter roads with aplomb and gets going when asked. While the overbearing traction control is sometimes a hindrance, it can be deactivated for those snowy, abandoned parking lots and such…
While my Q50 also did not feature the adaptive steering that can be tinkered with an personalized (rather like a videogame), the steering response was spot on and while somewhat contrived, I didn't feel disconnected from the car as I have in a lot of modern cars these days.
Inside, the Infiniti Q50 AWD's centre stack is one of my favourites on the market right now. While some dual screens are overkill, Infiniti's done it right. I adore the iPad-like screen that's crisp and clear. However, in very cold temperatures (that we're apt to have here), the screen takes ages to start up. Which also means that if you start the car and put it in reverse before the screen decides to turn on, you will not see the all-around camera viewpoints on the screen.
Otherwise, the interior is roomy and comfortable up front and in the rear. And the trunk offers up ample room (422L) for all weekend goodies and shopping trips.
Winter wonder
Finding a good winter car can be tricky, especially if you want something that's not only efficient in harsher conditions but also kinda fancy on the outside and in. Well, the Infiniti Q50 manages to be both.
Now, it's not the very best system I've ever encountered, but it is sufficient for the conditions we experience, and I never felt unsure of what the Infiniti was going to do in stickier situations. The Q50 feels planted and well behaved in blowing, blustery snow conditions, and rips through slushy, wet stuff with ease.
My only gripe, and it's always been there, is the multitude of active safety features featured in the car. Front warning this, side warning that… it all adds up to a lot of beeps and boops that distract me from doing what I actually should be doing: driving the car. Also, Infiniti's system sometimes malfunctioned with snow build-up and would flash and beep for no reason. Solution? Turn 'em all off.
Sometimes the girl next door is the one
I think the Q50 often gets overlooked, and it really shouldn't. Sure there are fancier models out there that offer up AWD and plenty of amenities, but I really think the Q50 does a bang-up job of being a great winter ride while also offering up the right amount of luxury. And with a starting price of $39,950, the base Q50 AWD comes very well equipped with everything you'd want (and need) in a car of this caliber.
Road Tests and Reviews

Consumers
2015 Infiniti Q50 3.7 AWD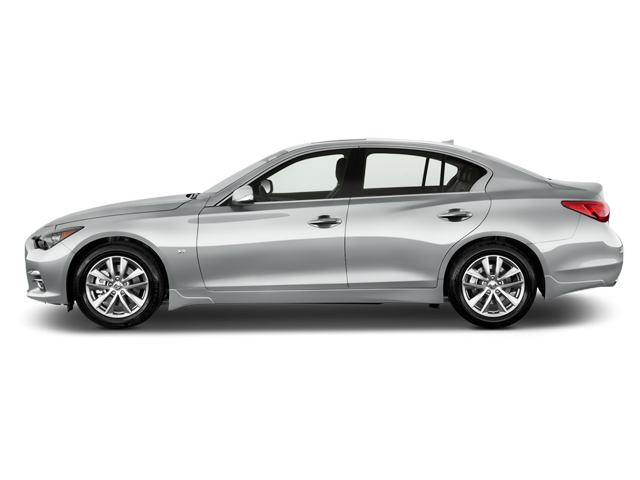 2015 Infiniti Q50 3.7 AWD