I was kinda wrong… Well, not entirely. My immediate reaction to the Cherokee's design was that of disgust and "WTF is Chrysler thinking?" Then I got to spend a little time with one and immediately began accepting that the ugly duckling might not be so bad…
Now, after spending a week at the wheel of a Cherokee Trailhawk (the Trailhawk part is VERY important), I've come to the conclusion that I really, really like it. So much so that if the Grand Cherokee was my favourite Jeep and one of my top utility vehicles, the Cherokee may have taken away some of that luster and applied it to itself.
Thus, the 2015 Jeep Cherokee, which returned as a 2014 after a long absence, is quite good. The drive is far more refined than one would expect a Jeep to be, and then it'll destroy all competition off the beaten path. The secret, though, lies in the presence of the Trailhawk trim.
Trailhawk
This trim is key in bringing the Cherokee together, in my opinion. By the same token, it's also completely useless unless it is actually exploited.
The Trailhawk package includes a series of physical add-ons that make all the difference in swallowing what is otherwise an unsightly vehicle. It's all about a 1" raised ride height; accent-coloured grille surround; roof rails; mirrors and badging; dual chromed exhaust tips; a skid-plate trim on the lower rear fascia; red tow hooks; and rugged looking black 17" wheels.
Many of these elements are purely aesthetic, but they make a world of difference. Suddenly, the Cherokee gains presence, stance, and a muscular and desirable appearance. Damn, I may have referred to it as being "hot"… I've since made an appointment with an eye doctor only to be confirmed that I still have 20/10 vision. However, in Sport, North or Limited trims, steel or chrome wheels and whatever brightwork is thrown on the Cherokee uglify it beyond words.
What is "Trailhawk?"
Only the most hardcore off-road version of the Cherokee -- therein lays the problem. I can safely predict that at least 80% of Cherokees (Trailhawk or not) on the road will never see sand, mud, rocks or do anything sporty in nature so having Selec-Terrain mixed with Jeep's Active Drive Lock 4WD system with a 2-speed power transfer unit and rear axle locker is beyond pointless.
The Cherokee's Trail Rated rating is no joke, though. On a few occasions, I wandered off the road with the Jeep and found a few deep mud trails. I got away unscathed, but that was nothing more than a walk in the park. Earlier this year, I participated in an FCA winter driving event where I was exposed to various types of AWD systems offered on Chrysler products. An off-road course was set up and even it posed no challenge for the Cherokee (or the Renegade for that matter).
A basic Cherokee Sport 4x4 is more than capable at handling Mother Nature's seasonal BS, but looks like the latter letter; S. I think Jeep should offer a Trailhawk appearance package on all Cherokees. That, my friends, would make it all better. Well, almost.
The pain of 9
I used this same sub-header in my Acura TLX review. From where I stand, a 9-speed autobox is one of the worse current "technologies" in the car business. So far, no programming has been able to properly sort out how to make this 'box work.
The positive aspect of the Cherokee's powertrain is its optional 3.2L Pentastar V6, derived from Chrysler's well-known and appreciated 3.6L V6. The 3.2L puts out 271 horsepower and 239 lb-ft of torque. Once underway, the engine pulls nicely and evenly. In fact, when the right gear is finally selected, the Cherokee shoots forward with surprising gusto.
Sadly, it takes forever before the transmission figures itself out. From a standstill, a noticeable delay is present (even when in Sport mode) and it gets worse from hereon in, unless driving leisurely. In the name of economy, the transmission will make its way to 5th gear quickly enough at lower speeds. Once on the highway at roughly 100 km/h, it'll slot itself into 9th. At this point (or any), should you want to accelerate, hold your breath and prod the throttle, wait, and hope for the best.
Gears 6 through 9 are all overdrives, and as such patience is in order for the 'box to find 5th to gather forward momentum. The time-lapse is so long that you may find yourself backing off the throttle and accepting your fate, stuck behind another #corollattack.
At the moment, a 9-speed automatic transmission is something I would avoid at all costs. Not only is it crap at doing its job, but also little is known about its reliability.
Love the cabin
Thankfully, sitting at the helm of the 2015 Jeep Cherokee is good. The design and ergonomics are fun, while fit and finish are quite nice. The seats are comfortable and the interior is roomy for four and loads of gear.
Once more, I'm a big fan of Chrysler's Uconnect with navigation, Bluetooth, and all that good stuff. Navigating the menus is easy and connecting a phone to the system is done in mere moments.
Pricing the competition
At $24,495, a base Cherokee Sport FWD is more or less pointless. An extra $2,200 gets you AWD and a few other goodies. The standard 2.4L 4-pot is a fair engine, but equally disturbed by a 9-speed tranny. My tested and loaded Trailhawk with V6, leather, sunroof, and a few more amenities retailed for just over $39k.
'Utes as capable as the Cherokee in this price range do not exist, however, there are a number of street-biased alternatives that, at the Trailhawk's price point, are completely loaded and very good. A Subaru Forester XT or Hyundai Santa Fe Sport 2.0T are two I would consider. However, if you like trails, none will follow a Trail Rated Cherokee.
Road Tests and Reviews

Consumers
2015 Jeep Cherokee Trailhawk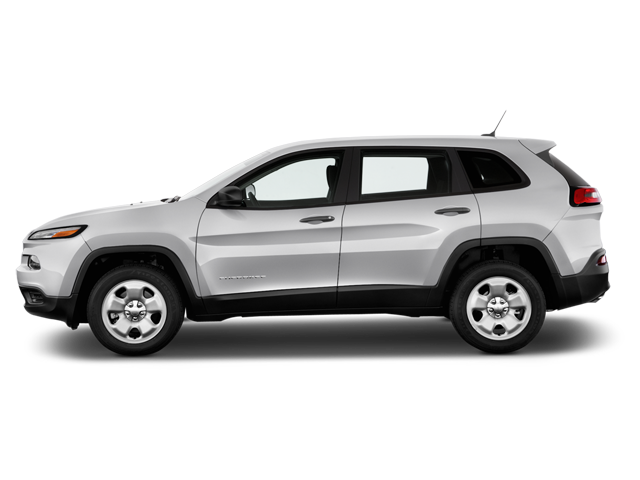 2015 Jeep Cherokee Trailhawk