Lincoln is recalling just over 142,000 MKC SUVs (2015-to-2019 model-years) to address an issue that could cause an underhood fire.
Until a fix is found and implemented, Ford's luxury brand is asking owners to park their MKCs outside and away from structures to reduce the risk of spread in the event of a fire.
In documents the company has filed with the NHTSA (National Highway Traffic Safety Administration), the equivalent of Transport Canada, we learn that the problem lies with the battery monitoring sensor, which could be damaged during maintenance and cause a short-circuit. That in turn could potentially trigger a fire.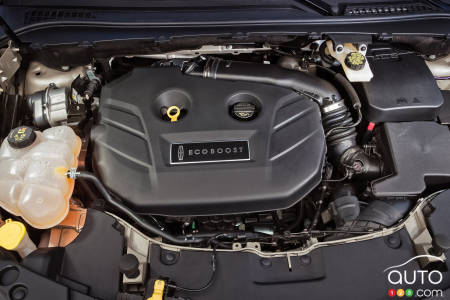 To date, Lincoln MKC owners have reported 19 under-hood fires, 11 of which occurred in the USA, seven in China and one in Canada. All the fires occurred while the vehicles were parked and their engines turned off.
Dealers have already been informed, and owners will receive letters from Lincoln by the end of June. In the meantime, Lincoln is recommending owners not park their vehicles indoors.
The Lincoln MKC is a very important model for the brand. When it arrived on the market in 2015, it contributed to its relaunch. This generation (2015-2019) has proved relatively reliable. On Transport Canada's website, the current recall does not yet appear, but the last campaign affecting the vehicle dates back to 2017.
In 2020, the MKC changed its name to Corsair.